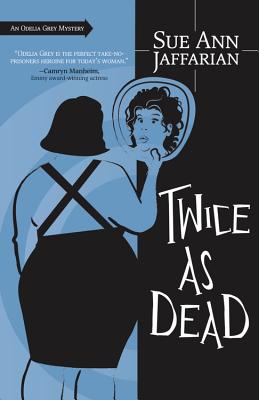 Twice as Dead (Paperback)
Midnight Ink, 9780738713526, 295pp.
Publication Date: June 8, 2011
Description
Corpse magnet Odelia Grey is at it again—stumbling across a dead body at a wedding reception while "Achy Breaky Heart" plays in the background. Bodies are turning up so fast that Odelia enlists the help of her family and friends—Greg, Seth, Zee, Detective Frye, her half brother Clark, even her pompous boss Michael Steele. But solving a mystery is twice as hard when the victims have more secrets than the killer.
Praise:
 "A priceless series . . . a real treat for chick-lit fans who like feisty women."—Library Journal (starred review)
"Plenty of humor, the charms of the feisty main character, and a great supporting cast add to the amusement."—Booklist
"Jaffarian outdoes herself this time with an exceedingly clever plot."—Mystery Scene
"Wild, wacky, and wonderful."—Carolyn Hart,  New York Times bestselling author 
About the Author
Sue Ann Jaffarian is a full-time paralegal who lives and works in Los Angeles. A member of Mystery Writers of America and Sisters In Crime, Sue Ann is the author of three mystery series—Odelia Grey, Ghost of Granny Apples, and Madison Rose—and also writes general fiction and short stories. She is widely sought after as a motivational and humorous speaker. For the most up-to-date list of all Sue Ann's activities, visit the calendar page at www.sueannjaffarian.com. *** "Sue Ann Jaffarian never fails to make me chuckle with her three mystery series starring paralegal Odelia Grey, ghost Granny Apples, and now Murder in Vein, starring friendly, and not-so-friendly, neighborhood vampires." —Joanne Fluke, New York Times bestselling author of the Hannah Swensen Mysteries
Advertisement