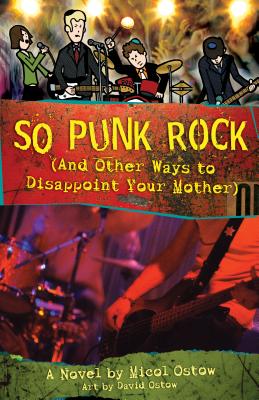 So Punk Rock
And Other Ways to Disappoint Your Mother
Paperback

* Individual store prices may vary.
Description
Despite his dreams of hipster rock glory, Ari Abramson's band, the Tribe, is more white bread than indie-cred. Made up of four suburban teens from a wealthy Jewish school, their Motley Crue is about as hardcore as SAT prep and scripture studies.
But after a one-song gig at a friend's Bar Mitzvah--a ska cover of "Hava Nagilah"--the Tribe's popularity erupts overnight. Now, Ari is forced to navigate a minefield of inflated egos, misplaced romance, and the shallowness of indie-rock elitism. It's a hard lesson in the complex art of playing it cool.
So Punk Rock is...
a 2010 Sydney Taylor Notable Book for Teen Readers "Awesome. Brilliant. Hilarious.
So Punk Rock
is so good "
--Blake Nelson, author of
Girl
"A downright hilarious read."--Elizabeth Bird, author of School Library Journal's
A Fuse #8 Production
" A] cutting-edge prose-graphic hybrid. . .smart, laugh-out-loud witty."--Cynthia Leitich Smith, author of
Tantalize
and
Eternal
A
Booklist
Top 10 Arts Books for Youth
(2009) and
Top 10 Religious Books for Youth
(2009). For more information, visit: www.kosherpunkrock.com.
Other links for So Punk Rock:
The Tribe Myspace page:
http: //www.myspace.com/tribenj
Ari on Twitter:
http: //twitter.com/rockonari
Reena on Twitter:
http: //twitter.com/NJchoirGRRL
Flux, 9780738714714, 264pp.
Publication Date: July 8, 2009
About the Author
Micol Ostow (New York City) has written more than thirty-five published works for children and young adults. So Punk Rock was inspired by the thirteen years of Jewish day school that she and her brother David experienced. Micol is currently pursuing an MFA in writing through Vermont College of Fine Arts and teaching YA writing up and down the Eastern seaboard. For more information, visit www.MicolOstow.com or www.KosherPunkRock.com.Illustrator David Ostow (Hoboken, New Jersey) was trained as an architect. He currently works at a large design firm in New York City and also illustrates on a freelance basis. So Punk Rock is his first literary endeavor. Visit David at www.DavidOstow.com or at www.KosherPunkRock.com.
or
Not Currently Available for Direct Purchase