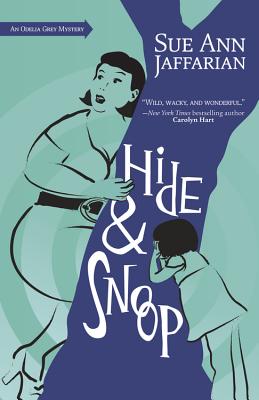 Hide & Snoop (Odelia Grey Mysteries #7)
Paperback

* Individual store prices may vary.
Description
A merger at Odelia Grey's law firm has put her job in jeopardy, and her new icy-cold boss, Erica Mayfield, has it in for her. The humiliation doubles when Erica dumps her three-year-old niece with Odelia and disappears for the weekend. The nerve Primed for a confrontation, Odelia impulsively goes to her boss's house in the middle of the night--and finds Erica's sister murdered. Before she knows it, Odelia's madcap misadventure to prove her own innocence ends up in a cuddly cradle of crime.
Praise:
Despite Jaffarian's flirtations with vampires and ghosts, her original series is still her best. Odelia takes no nonsense from anyone and stops at nothing to give the bad guys what they deserve.--Kirkus Reviews
Jaffarian is a skilled writer who is able to make extreme situations seem plausible and minor characters multidimensional. This character-rich series will appeal especially to readers of G. A. McKevett. --Booklist
An] enormously entertaining seventh cozy...tight plotting, first-class humor, and vivid descriptions. --Publishers Weekly
It's nice to read a book in which the heroine is not obsessed over body image. Odelia...is happy, healthy, in love--and utterly charming.--Kathleen Hennrikus, The New York Journal of Books
Midnight Ink, 9780738718897, 273pp.
Publication Date: September 8, 2012
About the Author
Sue Ann Jaffarian is a full-time paralegal who lives and works in Los Angeles. A member of Mystery Writers of America and Sisters In Crime, Sue Ann is the author of three mystery series--Odelia Grey, Ghost of Granny Apples, and Madison Rose--and also writes general fiction and short stories. She is widely sought after as a motivational and humorous speaker. For the most up-to-date list of all Sue Ann's activities, visit the calendar page at www.sueannjaffarian.com. *** Sue Ann Jaffarian never fails to make me chuckle with her three mystery series starring paralegal Odelia Grey, ghost Granny Apples, and now Murder in Vein, starring friendly, and not-so-friendly, neighborhood vampires. --Joanne Fluke, New York Times bestselling author of the Hannah Swensen Mysteries
or
Not Currently Available for Direct Purchase