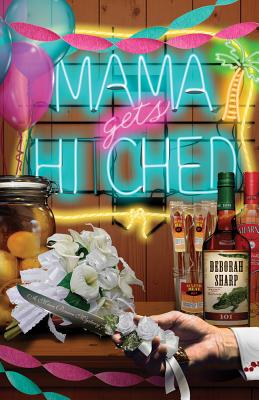 Mama Gets Hitched (Mace Bauer Mysteries #3) (Paperback)
Midnight Ink, 9780738719221, 327pp.
Publication Date: July 8, 2010
Other Editions of This Title:
Hardcover, Large Print (10/1/2010)
* Individual store prices may vary.
Description
According to Mama, a Gone with the Wind-themed wedding--complete with Scarlett O' Hara bridesmaid gowns and a ring-bearing Pomeranian--is fine and dandy for her fifth trip down the aisle. But what's a bridezilla to do when her caterer is murdered? Thanks to the nonstop gossip train in their small Florida town, Mama's gator-wrestling daughter Mace is getting the dirt on who did it.
Unfortunately, the suspect list is longer than the gift registry. Right at the top are the groom's East Coast Yankee cousins--who may have Mafia ties. With her on-again, off-again beau, Detective Carlos Martinez, Mace must track down the killer before Mama's Special Day turns especially deadly.
Praise:
"This is a humorous little bit of fluff, perfect for the beach."--The Globe and Mail
"Bound to give tourists a look at a Florida that is fast being paved out of existence."--Kirkus Reviews
"Sibling rivalry, steamy romance, a surprising killer, and plenty of catfish and hush puppies make this Southern cozy a winner."--Publishers Weekly
"Once again Sharp has presented a humorous look at life in the interior of Florida."--Booklist
"This series is just filled with down home charm, with a typical family that loves each other as they drive each other crazy."--Deadly Pleasures
"Who knew that a whodunit would not only keep you guessing-but have you laughing "--Hoda Kotb, NBC Today Show co-anchor
"Sharp delivers a wide swath of humor and a keen sense of Florida's history and present."--Oline H. Cogdill, South Florida Sun-Sentinel
"A terrific combination of sleuthing and silliness."--Colette Bancroft, St. Petersburg Times
"Hitched is a wonderful continuation in a good series. Keep 'em coming."--Reviewing the Evidence
"Filled with a delightfully off-beat Southern charm, Mama Gets Hitched is fast-paced, full of suspense, and funny to boot "--FreshFiction.com
About the Author
Like the main character in her "Mace Bauer Mysteries, '' her family roots were set in Florida long before Disney or Miami Vice. As a native and former reporter for USA Today, she knows the spots not found on maps: Molasses Junction. Muse, and now, Himmarshee, her own tiny slice of "Authentic Florida.'' To create Himmarshee, Deborah borrowed from the present-day ranching town of Okeechobee, and from the south Florida of her family's past. Not far from Ft. Lauderdale, her dad used to walk to town, leading the family cow. A generation later, Deborah rode her horse over the same citrus- and ranch-dotted terrain. Now, it's all interstates and strip malls. The difference between Mace's hometown and hers: Deborah will never let Himmarshee be spoiled by sprawl. The News-Press in Fort Myers gave Deborah her first job, in 1982. Her favorite assignment: getting cast as a zombie when Day of the Dead filmed on Sanibel Island. Her fellow extras raved about her lurching. A News-Press bonus: she met TV reporter Kerry Sanders in Immokalee, both of them shivering at dawn to see whether a winter freeze would ruin the green pepper crop. They've been married since 1989. No kids; no pets, but had goldfish once. Turned out badly--not a good omen for higher life forms. When they moved back to Deborah's hometown in 1991, the occasional stories she'd been writing for USA Today became a flood. Miami's loony nature gives it a lock on headlines. And then, 9/11, and everything changed. One of her last assignments before she left the paper was profiling soldiers killed in war. Grieving parents; spouses; kids. She couldn't absorb all that sadness anymore. So, at age fifty, fiction-writing beckoned. She'd get to determine the endings. Punish the bad and reward the good. And, she'd throw in some romance, too. She likes writing about Mama because the character makes her laugh. And doesn't everyone need a smile now and then? TV APPEARANCES ◊ NBC's Today Show from November 4, 2008 ◊ "Mayor's Book Talk" from January 14, 2009 ◊ NBC6 "South Florida Today." from July 17, 2009 ◊ NBC's Today Show from August 4, 2009 ◊ WJXT-TV from November 17, 2009 ◊ NBC's Today Show from August 24, 2010 ◊ NBC's Today Show from December 28, 2011
or
Not Currently Available for Direct Purchase