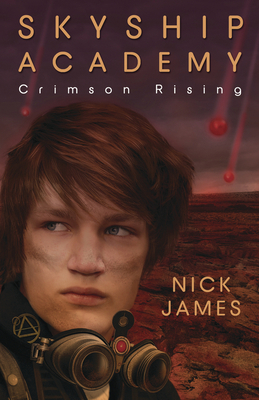 Skyship Academy
Crimson Rising
Paperback

* Individual store prices may vary.
Description
Following the dramatic showdown in Seattle, brothers Jesse Fisher and Cassius Stevenson find their world has been turned inside out. The faculty at Skyship Academy is keeping Jesse prisoner in his own home, fearful of his influence over the Pearls. Meanwhile, Cassius has fled to the Polar Cities of Canada, where the Unified Party he deserted threatens retaliation at every turn. When Jesse smuggles a mysterious red Pearl onboard the Academy, he sets loose a destructive chain of events, leading him to a reunion with Cassius and a confrontation with Theo, a bloodthirsty Pearlhound with a dangerous secret. But a larger threat looms in the stars. An enemy is gathering with devastating plans for the entire human race. And Jesse and Cassius might just be the lynchpins that trigger mankind's destruction. Praise for Skyship Academy: The Pearl Wars "A fast-paced adventure that delivers solid action sequences throughout."--Publishers Weekly "Skyship Academy is the perfect book for teens who like science fiction."--SLJTeen Newsletter.
Flux, 9780738723426, 355pp.
Publication Date: September 8, 2012
About the Author
Inspired by the big drama and snappy dialogue of comic books and graphic novels by Brian K. Vaughan and Brian Michael Bendis, Nick James began writing at a young age. His love of fast-paced storytelling led to his action-packed science fiction series for young adults, Skyship Academy. James grew up in the small island town of Anacortes, Washington. He graduated from Western Washington University in 2006 and currently works as a substitute teacher in Bellingham.