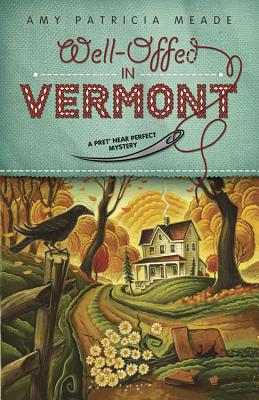 Well-Offed in Vermont (Paperback)
Midnight Ink, 9780738725901, 240pp.
Publication Date: November 8, 2011
Description
A NEW SERIES FROM ACCLAIMED MYSTERY AUTHOR AMY PATRICIA MEADE 
In bucolic small-town Vermont, tapestries expert Stella Thornton Buckley feels out of her element—and not just because she's fresh from Manhattan. Mere hours after moving to maple syrup country, she and her husband, Nick, find a dead man, Allen Weston, in a well on their property. The police investigation forces the couple out of their lovely vintage farmhouse and—since the motels are packed with leafpeepers—into a less than luxurious deer camp. Instead of mourning the loss of electricity and running water, Stella and Nick drive their Smart car all over the Vermont hamlet to question the quirky locals about Weston, a shrewd businessman who rubbed a lot of folks the wrong way.
Stella and Nick may never shed their flatlander reputation in this close-knit community, but can they get enough information from the taciturn townspeople to help Sheriff Mills solve the murder and sew up the investigation?
About the Author
Author of the critically acclaimed Marjorie McClelland Mysteries, Amy Patricia Meade is a native of Long Island, N.Y., where she earned bachelor's degrees in English and business. She enjoys traveling, cooking and classic films, and is a member of Sisters in Crime and Mystery Writers of America. Her Pret' Near Perfect Mystery series debuts this November with Well-Offed in Vermont, and she is the author of the forthcoming Rosie the Riveter Mystery series (Kensington). Meade now lives in Vermont and spends the long New England winters writing mysteries with a humorous or historical bent.  
Advertisement