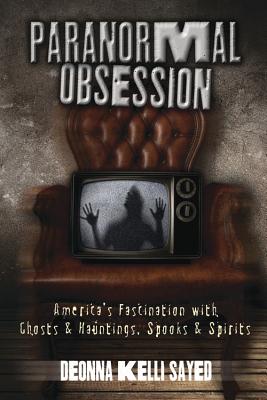 Paranormal Obsession
America's Fascination with Ghosts & Hauntings, Spooks & Spirits
Paperback

* Individual store prices may vary.
Description
Ghosts and ghouls, demons, poltergeists, phantoms, haunted houses, and shadow people--why is America so captivated by the creepy and unexplained? Paranormal Obsession is the first book to explore why we have an insatiable interest in spirits, ghost hunting, and all things otherworldly.
Paranormal investigator and researcher Deonna Kelli Sayed reveals how and why our fascination with spirits started. She interviewed ghost hunters, religious figures, scientists, academics, and cast members of the popular TV shows Ghost Hunters and Paranormal State, and offers compelling insight into what our fixation on ghostly activity says about American culture. Paranormal Obsession also highlights the author's paranormal group's investigation of the USS North Carolina, the most haunted battleship in the United States.
Praise:
Everyone can learn a thing or two from Deonna's writings. Her heart and soul are poured into every sentence.--Jason Hawes, co-founder of TAPS and co-star of the SyFy Channel show Ghost Hunters

Thank you, Deonna, for getting it right.--Grant Wilson, co-founder of TAPS and co-star of the SyFy Channel show Ghost Hunters
Llewellyn Publications, 9780738726359, 243pp.
Publication Date: September 8, 2011
About the Author
Deonna Kelli Sayed (Greensboro, NC) is a Muslim-American paranormal investigator with Haunted North Carolina (HNC). She lectures on many issues, from women in Islam to the paranormal, and has lived and conducted studies throughout Central Asia, the Middle East, Europe, and Africa. She is the host of Think Tank, a forum on LiveParanormal.com.
or
Not Currently Available for Direct Purchase