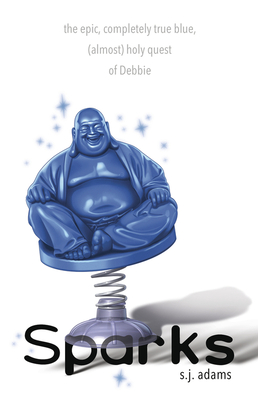 Sparks (Paperback)
The Epic, Completely True Blue, (Almost) Holy Quest of Debbie
Flux, 9780738726762, 256pp.
Publication Date: November 8, 2011
* Individual store prices may vary.
Description
Do you feel lost? Confused? Alone? (Circle one): Yes or No. The Church of Blue can help. We are not a cult. $5 for a holy quest is a good deal. Since sixth grade, Debbie Woodlawn has nursed a secret, heart-searing crush on her best friend, Lisa. But all those years of pretending to enjoy Full House reruns and abstinence rallies with Lisa go down the drain when her friend hooks up with Norman, the most boring guy at school. This earth-shattering event makes Debbie decide to do the unthinkable: confess her love to Lisa. And she has to do it tonight--before Lisa and Norman go past "the point of no return." So Debbie embarks on a quest to find Lisa. Guiding the quest are fellow students/detention hall crashers Emma and Tim, the founding (and only) members of the wacky Church of Blue. Three chases, three declarations of love, two heartbreaks, a break-in, and five dollars worth of gas later, Debbie has been fully initiated into Bluedaism--but is there time left to stop Lisa and Norman from going too far? Click here to view the book trailer for Sparks.
About the Author
S.J. Adams previously worked as the chief of the Smart Aleck Staff, the team that created the acclaimed Smart Aleck's Guide to American History by Adam Selzer. Adams lives in Chicago. Visit the author online at smartalecksguide.com or SJAdamsbooks.blogspot.com for more information.
or
Not Currently Available for Direct Purchase