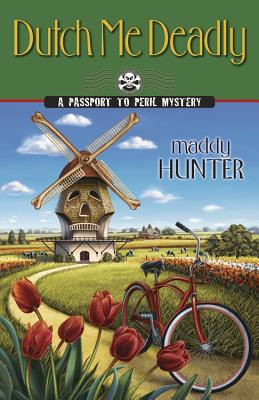 Dutch Me Deadly (Paperback)
Midnight Ink, 9780738727042, 279pp.
Publication Date: February 8, 2012
Description
Book 7 in the critically acclaimed, bestselling Passport to Peril Mystery series
As a travel escort for seniors, Emily Andrew-Miceli has led her feisty Iowa clan all over the world. This time, they're off to see historic windmills, classic Rembrandts, and picturesque canals in Holland--if they can ever unplug from their smartphones, that is. Joining them is the high school class from Bangor, Maine, whose 50th reunion celebration goes south faster than a fallen Brussel sprout souffle as old rivalries start heating up. Worse, Emily's hopes for a 100% survival rate on this trip are dashed when an important member of the tour suffers a tragic (and highly suspicious) accident. Then the saucy seniors' wild night of drug-laced desserts and risque shows in Amsterdam's infamous Red Light District gets even more mysterious when one unpopular reunioner goes missing . . .
Praise:
"A bit of humor, a bit of travel information and a bit of mystery add up to some pleasant light reading."--
Kirkus Reviews
"The cast of characters is highly entertaining and the murder mystery mixed with good humor "--
Suspense Magazine
"A first-class ticket to entertainment . . .
Dutch Me Deadly
] offers non-stop humor and an engaging plot." --Carrie Bebris, award-winning author of the Mr. & Mrs. Darcy Mystery series
About the Author
Maddy Hunter has endured disastrous vacations on three continents in the past five years. The first six titles are available from Pocket Books; books seven through eleven are available with Midnight Ink Books. The first in the series, Alpine for You, was an Agatha Award finalist and a Daphne du Maurier Award finalist. Also, Hula Done It?, Pasta Imperfect, and Top O' the Mournin' were named to the Independent Mystery Bookseller's Association bestseller list. The author resides in Madison, Wis. For more information, go to MaddyHunter.com.
Advertisement