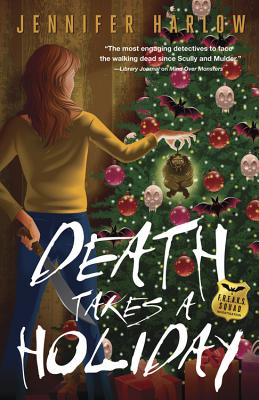 Death Takes a Holiday (Paperback)
Midnight Ink, 9780738727127, 280pp.
Publication Date: August 8, 2013
* Individual store prices may vary.
or
Not Currently Available for Direct Purchase
Description
CLASSIFIED: F.R.E.A.K.S. On Vacation
If anyone ever needed a holiday, it's Beatrice Alexander. Crushing a forty-foot snake with her mind? Easy. Dealing with the drama that's tearing apart the F.R.E.A.K.S? Not so much. Being used as a tug-of-war rope between a wounded werewolf and vain vampire has stretched Bea to her breaking point. So she travels home to the sunny beaches of California for Christmas.
Despite the welcome distractions of family, friends, and her seemingly normal ex-boyfriend, her mind and heart remain thousands of miles away with her knights in tarnished armor. But a F.R.E.A.K. can never really go home again. After helping a teenage vampire companion, Bea and her family find themselves in extremely hot water with the vampire Lord of San Diego, who gives her an ultimatum--leave the F.R.E.A.K.S. to become his concubine or die.
Praise:
"Wildly fun and funny, Harlow offers treats for every paranormal lover to relish, with plenty of action, thrills, and laughter."--Leanna Renee Hieber, author of the Strangely Beautiful series
About the Author
Jennifer Harlow (Atlanta) earned a BA from the University of Virginia in psychology. Her eclectic work experience ranges from government investigator to radio DJ to lab assistant. She is also a member of Sisters in Crime. Visit her online at JenniferHarlow.com.
Advertisement