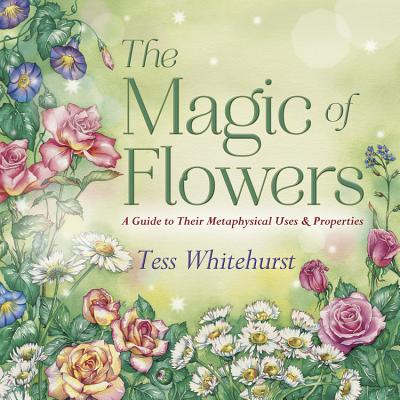 The Magic of Flowers
A Guide to Their Metaphysical Uses & Properties
Paperback

* Individual store prices may vary.
Description
The Essential Compendium of Flower Magic
Explore the subtle and whimsical realm of flower magic with 80 magical species, conveniently presented in this comprehensive, one-of-a-kind guide From African daisy to ylang ylang and many others in between, The Magic of Flowers introduces you to the holistic and therapeutic benefits of essential oils, flower essences, and the blossoms themselves.
As manifestations of divine beauty and wisdom, flowers offer you countless magical and spiritual ways to connect with them. Because they dwell on the border between seen and unseen, closer to the etheric realm of pure energy, flowers allow you to see into the heart of truth. Tune in to their unique vibrations and improve your health, vitality, beauty, success, personal power, and more. Use flowers for aromatherapy, charms and rituals, herbal potions, divine alignment, and to help manifest the life conditions you desire. Spark your own transcendent experiences with these mystical beings, who can serve as therapists, healers, and emissaries of the Divine.
2014 COVR Award Winner
Praise:
With her gentle wisdom, author Tess Whitehurst has crafted a lovely guide to the world of flowers and their energies and essences. This enchanting book is both a comfort and a joy --Ellen Dugan, author of Seasons of Witchery and Garden Witch's Herbal
Wonderfully researched, easy to read, full of spells that reach beyond the simple 101 of many books. This book has found a permanent place on my most used reference shelf --Kris Bradley, author of Confessions of a Pagan Soccer Mom and Mrs. B.'s Guide to Household Witchery
Tess Whitehurst doesn't just write about flowers--she translates their messages into words anyone can understand. This is the only flower magic book you'll ever need.--Deborah Blake, author of Everyday Witch Book of Rituals
Thorough, deep, and multifaceted, The Magic of Flowers is a must for any healer or magical practitioner's shelf.--Clea Danaan, author of Sacred Land and Living Earth Devotional
Llewellyn Publications, 9780738731940, 422pp.
Publication Date: June 8, 2013
About the Author
Tess Whitehurst (Boulder, CO) teaches magical and intuitive arts in live workshops and via her online community and learning hub, the Good Vibe Tribe Online School of Magical Arts. An award-winning author, she's written eight books, which have been translated into eighteen languages. She has appeared on the Bravo TV show Flipping Out as well as morning shows on both Fox and NBC, and her writing has been featured in Writer's Digest, Spirit and Destiny (in the UK), and online at elephantjournal.com.