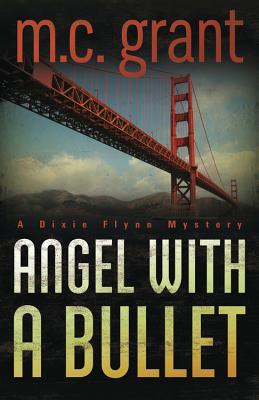 Angel with a Bullet (Paperback)
Midnight Ink, 9780738734156, 324pp.
Publication Date: September 8, 2012
* Individual store prices may vary.
or
Not Currently Available for Direct Purchase
Description
Wisecracking reporter Dixie Flynn thinks fast and talks even faster--it's the only way to survive the San Francisco crime beat. When she's assigned to look into the death of her former lover, artist Diego Chino, Dixie's instincts tell her there's more behind the apparent suicide than the police are letting on.
Dixie's canvassing of the Bay Area art district reveals it to be a perfect picture of corruption, with a handsome art dealer and a reclusive patron in the foreground. After a romantic evening in Chinatown ends in a brush with death, Dixie is more determined than ever to expose the truth. But when a fire in her vicinity turns out to be more than just performance art, it's clear the perpetrators would rather see Dixie dead than let her destroy their criminal masterpiece.
Praise:
"Under a sort-of-pseudonym, thriller writer Grant McKenzie offers the first of a planned series featuring wisecracking Dixie, with a fast-paced combination of violence and sex and a game-changing twist at the end."--Kirkus Reviews
"With lots of action, colorful characters, and a surprising plot twist, this is an endearing series debut that will have readers eager for Dixie to solve more cases."--Booklist
"The book is a fun murder-mystery filled with action, humour and intrigue--written in first-person-female perspective, which is something unexpected from a male author."--Victoria News (Canada)
"Angel with a Bullet is part gritty detective novel, part chick lit with a fast paced and a wise-cracking reporter."--The Mystery Reader
"If you have a taste for vintage crime fiction, screwball comedies, and the lighter side of noir, Angel With a Bullet might be right up your alley."--Victoria Janssen for Criminal Element
"A terrific novelist " --Tess Gerritsen, New York Times bestselling author of The Silent Girl
"Grant McKenzie (aka M. C. Grant) really knows how to make a story move."--Linwood Barclay, international bestselling author of No Time for Goodbye
About the Author
M.C. Grant is Grant McKenzie, an award-winning screenwriter, editor, and novelist. He is the author of Switch and No Cry for Help (both published by Bantam TransWorld UK). His short stories have been featured in the First Thrills anthology edited by Lee Child (Tor/Forge), and Out of the Gutter and Spinetingler magazines. His first screenplay won a fellowship at the Praxis Centre for Screenwriting in Vancouver. As a journalist, he worked in virtually every area of the newspaper business, from the late-night "dead body beat" at a feisty daily tabloid to senior copy/design editor at two of Canada's largest broadsheets. Born in Glasgow, Grant currently reside in Victoria, British Columbia, where he is editor-in-chief of Monday Magazine. For more information, visit him online at GrantMcKenzie.net.
Advertisement