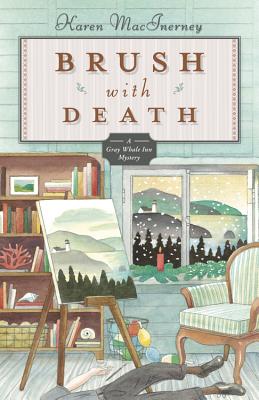 Brush with Death (Paperback)
Midnight Ink, 9780738734590, 336pp.
Publication Date: May 8, 2013
Description
For Natalie Barnes, the flurry of trendy artists setting up shop on Cranberry Island promises to be the perfect recipe for relaxing and enjoying the holiday season. But Natalie's good luck is turning out to be a stroke of misfortune for her niece, Gwen. The local gallery's new owner hates Gwen's paintings, and her mentor Fernand is too distracted by a competing artist to help Gwen improve her style. When Natalie finds Fernand dead, seemingly the victim of suicide, she can't believe someone who had so much joy and success in his life would kill himself. Finding clues at Fernand's home that support her suspicion of murder, Natalie's hunt for answers places her next on the killer's list. Will she be able to solve this murder masterpiece before it's too late?
Praise:
"A welcome return to Maine's Cranberry Island and its sleuthing innkeeper, Natalie Barnes."
—Library Journal
"The fifth Gray Whale adventure provides complex characters, stunning scenery and many recipes." —
Kirkus Reviews
About the Author
Critically acclaimed author Karen MacInerney also teaches writers' workshops and drives a mean carpool. Her book Murder on the Rocks was selected as an Agatha nominee for Best First Novel. When she's not writing or chauffeuring children, she loves to read, drink coffee, attempt unusual recipes, and hit the local hike-and-bike trail. She lives in Austin, Texas, with her husband, two children, and a rabbit named Bunny, and escapes to Maine as often as possible.
Advertisement