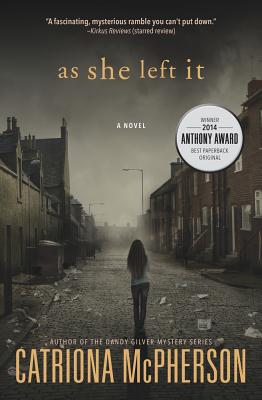 As She Left It (Paperback)
Midnight Ink, 9780738736778, 343pp.
Publication Date: June 8, 2013
Description
A 2014 Anthony Award Winner
When she was twelve years old, Opal Jones escaped her mother's endless drinking. Now, returning to their small Leeds cottage after her mum's death, Opal feels like she's gone back in time. Nosey Mrs. Pickess is still polishing her windows to a sparkle. Fishbo, Opal's ancient music teacher, still plays trumpet with his band. And much to Opal's delight, her favorite neighbor, Margaret Reid, still keeps an eye on things from the walk in front of her house.
But a tragedy has struck Mote Street. Margaret's grandson, Craig, disappeared some ten years ago, and every day he's not found, shame and sorrow settle deeper into the neighborhood's forgotten corners. As the door she closed on her own dark past begins to open, Opal uncovers more secrets than she can bear about the people who were once her friends.
Praise:
Winner of the 2014 Anthony Award for Best Paperback Original
Winner of the 2013 Gold ForeWord IndieFab Award for Mystery
Named one of KIRKUS REVIEWS' "Best Books of 2013"
"The creator of Dandy Gilver . . . has produced a stand-alone that is worlds apart, a fascinating, mysterious ramble you can't put down."--Kirkus Reviews (starred review)
"Dark, absorbing, contemporary stand-alone."--Publishers Weekly
" A] captivating stand-alone from the author of the Dandy Gilver mystery series."--Booklist
"McPherson has crafted a tale that is both suspenseful and poignant. I wanted to cheer for Opal one second and hug her the next."--Eileen Rendahl, author of The Messenger Novels
About the Author
Catriona McPherson (Davis, California) was born in Edinburgh, Scotland, and is the author of multi-award-winning standalones for Midnight Ink, including the Edgar-shortlisted The Day She Died and the Mary Higgins Clark finalist Quiet Neighbors. She also writes the Agatha-winning Dandy Gilver historical mystery series (Minotaur/Thomas Dunne Books). McPherson is the past president of Sisters in Crime and a member of Mystery Writers of America. Visit her online at CatrionaMcPherson.com.
Advertisement