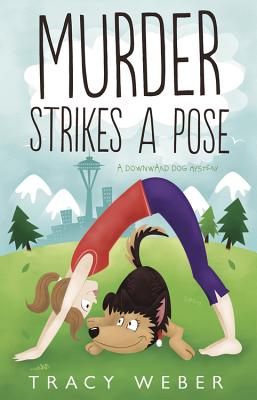 Murder Strikes a Pose (Downward Dog Mysteries) (Paperback)
Midnight Ink, 9780738739687, 274pp.
Publication Date: January 8, 2014
* Individual store prices may vary.
Description
When George and Bella--a homeless alcoholic and his intimidating German shepherd--disturb the peace outside her studio, yoga instructor Kate Davidson's Zen-like calm is stretched to the breaking point. Kate tries to get rid of them before Bella scares the yoga pants off her students. Instead, the three form an unlikely friendship.
One night Kate finds George's body behind her studio. The police dismiss his murder as a drug-related street crime, but she knows George wasn't a dealer. So Kate starts digging into George's past while also looking for someone to adopt Bella before she's sent to the big dog park in the sky. With the murderer nipping at her heels, Kate has to work fast or her next Corpse Pose may be for real.
Praise:
Winner of the 2014 Dog Writers Association Award in the category of Fiction, Mystery or Humor
"Cozy fans will eagerly await the next installment."--Publishers Weekly
"Murder Strikes a Pose, by Tracy Weber, is a delightful debut novel featuring Kate Davidson, a caring but feist yoga teacher . . . Namaste to Weber and her fresh, new heroine "--Penny Warner, author of How to Dine on Killer Wine
" T]his charming debut mystery . . . pieces together a skillful collage of mystery, yoga, and plenty of dog stories against the unique backdrop of Seattle characters and neighborhoods. The delightful start of a promising new series. I couldn't put it down "--Waverly Fitzgerald, author of Dial C For Chihuahua
"Three woofs for Tracy Weber's first Downward Dog Mystery, Murder STrikes a Pose. Great characters, keep-you-guessing plot, plenty of laughs, and dogs--what more could we want? Ah, yes--the next book "--Sheila Webster Boneham, author of Drop Dead on Recall

About the Author
Tracy Weber is author of the award-winning Downward Dog Mystery series. Her first book in the series, Murder Strikes a Pose, won the Maxwell Award for Fiction and was nominated for the Agatha Award for Best First Novel. A certified yoga therapist, Tracy is the owner of Whole Life Yoga, a Seattle yoga studio, and she loves sharing her passion for yoga and animals in any way possible. Tracy and her husband Marc live in Seattle with their precocious German Shepherd pup Ana. When she's not writing, Tracy spends her time teaching yoga, trying to corral Ana, and sipping Blackthorn cider at her favorite ale house.
or
Not Currently Available for Direct Purchase