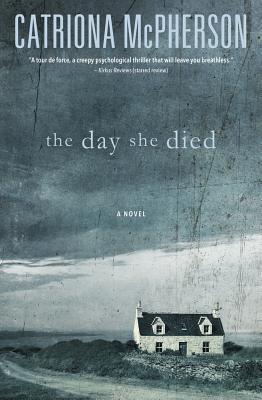 The Day She Died (Paperback)
Midnight Ink, 9780738740454, 301pp.
Publication Date: May 8, 2014
Description
That was the day I met Gus, the day I grew a family as if from magic beans, the day she died. That's the point, see? It was the very same day…
Jessie Constable has learned the hard way to always keep herself safe. But meeting Gus King changes everything. Before she knows it, Jessie is sleeping at Gus's house, babysitting his kids, becoming a part of his family. And yet, she can't ignore the unsettling questions. Who does she keep seeing from the corner of her eye? Why are strange men threatening her? Most importantly, what really happened to Gus's wife?
Creating a brilliant, foreboding mystery where nothing is as it seems, master storyteller Catriona McPherson weaves an ominous tale that will keep you guessing until the very end.
Praise:
A 2015 Anthony Award Winner (Best Paperback Original)
An Edgar Award Nominee (Best Paperback Original)
"McPherson's second stand-alone is a tour de force, a creepy psychological thriller that will leave you breathless."—Kirkus Reviews (starred review)
"Keep the lights on and batten down the hatches, for McPherson's psychologically terrifying stand-alone demands to be read all night."—Library Journal
"Cracking read, irresistible narrator."—Val McDermid, international bestselling author
"Warnings are everywhere, neighbors are nosy, and the reader will stand beside Jessie, looking over their shoulders and waiting for the axe to fall."—Suspense Magazine 
" A] deliciously disturbing tale of deception and self-deception...McPherson is a persuasive and immersive writer at the crest of her powers."—Alex Marwood, Edgar Award-winning author of Wicked Girls 
About the Author
Catriona McPherson (Davis, California) was born in Edinburgh, Scotland, and is the author of multi-award-winning standalones for Midnight Ink, including the Edgar-shortlisted The Day She Died and the Mary Higgins Clark finalist Quiet Neighbors. She also writes the Agatha-winning Dandy Gilver historical mystery series (Minotaur/Thomas Dunne Books). McPherson is the past president of Sisters in Crime and a member of Mystery Writers of America. Visit her online at CatrionaMcPherson.com.
Advertisement