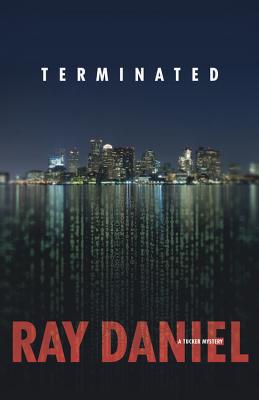 Terminated (Tucker Mystery #1) (Paperback)
Midnight Ink, 9780738740690, 336pp.
Publication Date: August 8, 2014
* Individual store prices may vary.
Description
Uber-geek Tucker and his beautiful wife, Carol, developed controversial security software together until the day he was fired and she was murdered. Now, six months later, another software engineer is dead, bringing new clues to light in Carol's cold case.
Shocked by the brutal violence he's witnessed, Tucker is determined to track down the truth behind the killings--no matter what the cost. Hired as a consultant by his old company, Tucker discovers their most important project is in danger of being corrupted . . . and there are people willing to kill to get their hands on it.
Praise:
"A lively debut."--Kirkus Reviews
"A smart novel with plenty of witty asides, slam-bam action, and it doesn't flinch from depicting sexual violence."--The Boston Globe
"Ray Daniel has nailed it. Nailed the story, nailed the writing, nailed the whole clever, original and quirky deal. An authentically riveting thriller, with wit and skill and a voice you can't forget. Terrific."--Hank Phillippi Ryan, Anthony, Agatha and Macavity Award-winning author
" A] smart, snappy, suspense-filled entertainment that knows just when to ratchet up the action, just when to turn the plot, just when to twist the knife. And more than that, it's filled with fascinating characters, snarky humor, and some sharp social observations, too. You'll read far into the night and come away with two things: a deep sense of satisfaction and sweaty palms from turning the pages so fast."--William Martin, New York Times bestselling author of Back Bay and The Lincoln Letter
"Ray Daniel delivers a fast moving and engaging story with fully-blown characters, biting wit, and sparkling dialog. Terminated is a terrific debut novel. There is a new kid in town who deserves a wide audience."--Gary Braver, bestselling and award-winning author of Tunnel Vision

"Ray Daniel not only delivers a suspenseful, twisty, action-packed yarn, he's created an everyman hero named Tucker who will linger in the reader's conscious long after the final page is read. A terrific debut for a promising new series."--Steve Ulfelder, Edgar-nominated author of Wolverine Bros. Freight & Storage
"Ray Daniel knows what he writes and has written a winner."--Mike Cooper, award-winning author of Clawback
About the Author
Ray Daniel (Framingham, MA) writes first-person, wisecracking, Boston-based crime fiction. His story Driving Miss Rachel (published in Blood Moon by Level Best Books) was chosen as a 2013 distinguished short story by Otto Penzler, editor of The Best American Mystery Stories 2013. Daniel's work has been published in the Level Best Books anthologies Thin Ice, Blood Moon, and Stone Cold. Terminated is Ray Daniel's first novel. For more information, visit him online at raydanielmystery.com/.
or
Not Currently Available for Direct Purchase