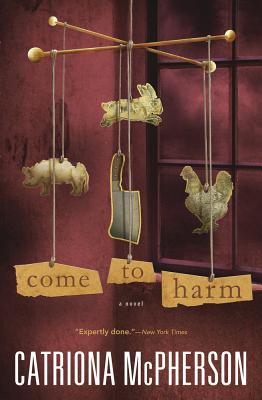 Come to Harm (Paperback)
Midnight Ink, 9780738743875, 360pp.
Publication Date: May 8, 2015
Description
For Keiko Nishisato, leaving Tokyo is a rare adventure, but it's living in the quiet little town of Painchton, Scotland, that shows her how far she is from home. 
Keiko has never met friendlier people than the Painchton Traders. Only the Pooles, the butchers below her second-floor apartment, want to keep their distance. Murray Poole attracts her right away. Mrs. Poole puzzles her—is there more than recent widowhood behind all that sadness?  And then there's Malcolm. Massive and brooding, he hints at something dark behind the bustle and banter of this strange little town.
For such a settled place, a lot of young women seem to leave. But the more Keiko discovers the less she believes, until she can't tell where her fears end and the real nightmares begin.
Praise:  
"Expertly done."—The New York Times
 " McPherson is a] master of psychological thrillers."—Kirkus Reviews (starred review)
"Shudderingly terrific."—The Globe and Mail
"McPherson's small-town tale is far more a thriller . . . and might even draw fans of Dennis Lehane."—Booklist
" A] grisly standalone."—Publishers Weekly
About the Author
Catriona McPherson (Davis, California) was born in Edinburgh, Scotland, and is the author of multi-award-winning standalones for Midnight Ink, including the Edgar-shortlisted The Day She Died and the Mary Higgins Clark finalist Quiet Neighbors. She also writes the Agatha-winning Dandy Gilver historical mystery series (Minotaur/Thomas Dunne Books). McPherson is the past president of Sisters in Crime and a member of Mystery Writers of America. Visit her online at CatrionaMcPherson.com.
Advertisement