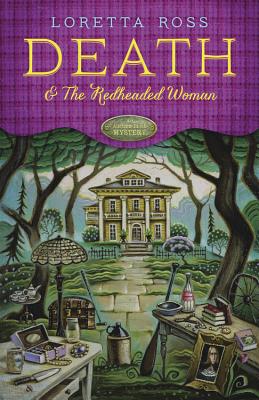 Death & the Redheaded Woman (Auction Block Mystery #1) (Paperback)
Midnight Ink, 9780738743936, 264pp.
Publication Date: February 8, 2015
* Individual store prices may vary.
Description
Next Up for Auction: Murder
When auctioneer Wren Morgan begins cataloging the contents of the Campbell mansion, she's unprepared to find something that can't be appraised--a dead man. After the body turns out to be a criminal with ties to a recent jewel heist, Wren comes face-to-face with Death Bogart. A private eye and part-time bounty hunter, Death is searching for the stolen jewels needed to convict a murderer.
Death finds a friend and willing ally in Wren, but they aren't the only ones searching for treasure. Two ruthless men are also on the hunt, and they will do anything to eliminate the competition. To survive, Death and Wren must solve two mysteries spanning a century and a half and outwit a pair of cold-blooded killers.
Praise:
"Ross' thoroughly entertaining debut combines smart details about the auction business with two engaging mysteries and a uniformly appealing cast. Fans of small-town cozies, especially those by Denise Swanson, will love this, as will mystery readers who double as thrift-store aficionados and followers of auction reality shows."--Booklist (starred review)
" A] winning debut."--
Publishers Weekly
"Fresh and enjoyable . . . a well-told story with appealing characters."--
Mystery Scene
"The witty sarcastic banter between the lead characters was charming and endearing."--
RT Book Reviews
"Ross' debut features a likable pair of sleuths, some local Missouri history and a nice little mystery."--
Kirkus Reviews
About the Author
Loretta Ross (Warsaw, MO) earned her BA in art history and archaeology from the University of Missouri—Columbia. Death and the Redheaded Woman was her debut novel.