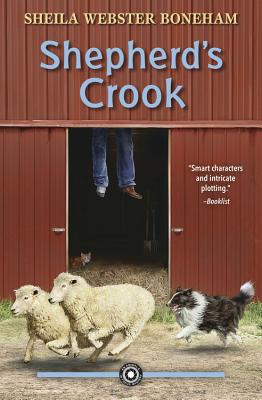 Shepherd's Crook (Animals in Focus Mysteries #4) (Paperback)
Midnight Ink, 9780738744872, 336pp.
Publication Date: October 8, 2015
Description
Animal photographer Janet MacPhail has just arrived at a sheepherding competition with her Australian Shepherd, Jay, when she learns that two-dozen sheep have disappeared. Police think the animals have wandered off, but Janet is convinced they've been stolen.
Janet knows she should leave the snooping to the police while she attends to her own problems--new living arrangements, her mom's wedding plans, puppy and kitten antics, and extremists bent on keeping people from having pets. But when a livestock handler turns up dead, the police and a pair of thugs pay Janet way more attention than she likes. Setting out to find answers, Janet puts herself in the killer's crosshairs.
Praise:
"A woolly tale sure to delight both animal lovers and mystery fans. Shepherd's Crook knits together a unique setting, likable characters, and a mystery that will keep you guessing."--Sparkle Abbey, author of The Pampered Pet Mysteries
About the Author
Sheila Webster Boneham is the author of the Animals in Focus Mystery series. Drop Dead on Recall, the first in the series, won the Dog Writers Association of America Award in Fiction, Mystery, or Humor. She is also the author of 17 nonfiction books, six of which have won major awards from the Dog Writers Association of America and the Cat Writers Association. For the past two decades Boneham has been showing her Australian Shepherds and Labrador Retrievers in various canine sports. She has also bred top-winning Aussies, and founded rescue groups for Aussies and Labs. Boneham holds a doctorate in folklore from Indiana University and resides in Wilmington, N.C. For more information, go to SheilaBoneham.com.
Advertisement