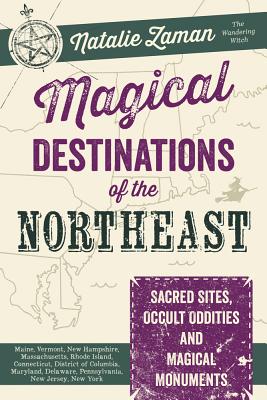 Magical Destinations of the Northeast (Paperback)
Sacred Sites, Occult Oddities & Magical Monuments
Llewellyn Publications, 9780738747903, 432pp.
Publication Date: October 8, 2016
* Individual store prices may vary.
Description
Every state in America has sacred sites--places that change you, heal you, and make you feel alive. Magical Destinations of the Northeast details more than 300 spiritual destinations perfect for meditation, magic, and just plain fun. This hands-on guidebook also includes spells and rituals and provides tips for the magical uses of official state plants, flowers, gems, minerals, and trees.
There are pockets of magic to be found everywhere--places that make you stop in your tracks as powerful energies speak to your soul. This book is filled with awe-inspiring destinations, featuring little-known gems, natural landscapes, and manmade creations, as well as Native American and African American heritage sites. With everything from witch's temples to Druid circles, spiritualist communities to mysterious stones, this book will make your next trip a truly magical journey.
Features more than 300 destinations in:
Maine
Vermont
New Hampshire
Massachusetts
Rhode Island
Connecticut
District of Columbia
Maryland
Delaware
Pennsylvania
New Jersey
New York
Praise:
Winner of a 2018 IPPY Award for Best Regional Non-Fiction
"A comprehensive, entertaining, and insightful guide to the sacred, magical, and mystical destinations of the Northeast."--Judika Illes, author of Encyclopedia of Witchcraft
"A fascinating and comprehensive book that is sure to become the go-to guide for anyone wanting to visit magical places in the Northeast United States. I can't wait to begin exploring all the wonders this book reveals."--Deborah Blake, author of Everyday Witchcraft and The Witch's Broom
"Even if you've never been to the east coast, this book will surely awaken your wanderlust to visit the amazing locations wonderfully described with Zaman's inspiring travel guide."--Mickie Mueller, author of The Witch's Mirror
"The world is full of magic and although you can journey to the far corners of the Earth to find places of wonder, you can also find them nearer than you'd imagine possible. Magical Destinations of the Northeast is like a hidden scroll, a treasure map, and a mysterious compass that let's you find the enchanted places that are near to your home and hearth."--Ivo Dominguez Jr., author of Practical Astrology for Witches and Pagans
"Natalie Zaman expertly documents all things curious, ancient, and otherwise magical in this impressive collection--I can't wait for the rest of the series "--Raven Digitalis, author of Esoteric Empathy and Goth Craft
About the Author
Natalie Zaman is the author of Color and Conjure and Magical Destinations of the Northeast (Llewellyn); the co-author of Sirenz (Flux), Sirenz Back In Fashion (Flux), and Blonde Ops (Thomas Dunne Books); and is a contributor to various Llewellyn annual publications.
or
Not Currently Available for Direct Purchase