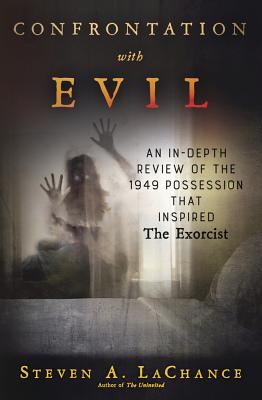 Confrontation with Evil
An In-Depth Review of the 1949 Possession That Inspired the Exorcist
Paperback

* Individual store prices may vary.
Description
For Steven A. LaChance, the possession case that inspired The Exorcist has always felt . . . incomplete. In this book, he shows how the official account crumbles under scrutiny, revealing instead a story of familial horror and spiritual corruption that implicates the highest levels of the Catholic Church.
Known as the 1949 St. Louis Exorcism, the harrowing story of a possessed child and his terrified family was immortalized in The Exorcist. While theories and rumors about the case abound, none of them explain how a young child could have been possessed to the degree described in Father Raymond Bishop's infamous diary.
Join Steven A. LaChance--author, investigator, and himself the survivor of a long-term demonic attack--as he shares shocking evidence for how seemingly benign events progressed into a full-blown demonic possession. While the conventional story is that the boy brought the infestation upon himself, this book presents an alternative interpretation and provides new insights into the nature of possession itself. As LaChance gains access to a secret location that plays a crucial role in the story, he sheds new light on how the exorcism's bizarre aftermath continues to haunt the city of St. Louis and the Catholic Church to this day.
Llewellyn Publications, 9780738747996, 264pp.
Publication Date: February 8, 2017
About the Author
Steven LaChance (Missouri) has appeared on numerous television and radio programs worldwide. He has been a featured guest on The Morning Show with Mike & Juliet, Fox News, NBC News, CBS News, Travel Channel, Chiller, CNN, Destination America, the Discovery Channel, plus many more, including his starring appearance in the Booth Brothers documentaries Children of the Grave and The Possessed. Steven has also completed a documentary for the Fifth Season DVD release of Supernatural, the popular television series about two brothers who hunt demons.
or
Not Currently Available for Direct Purchase