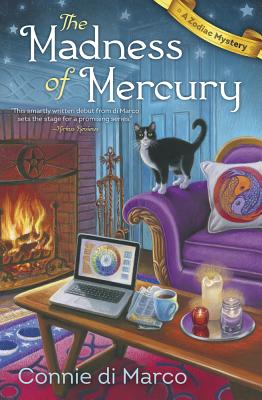 The Madness of Mercury (Zodiac Mystery #1)
Paperback

* Individual store prices may vary.
Description
Mercury retrograde wreaks havoc on astrologer Julia Bonatti
San Francisco astrologer Julia Bonatti's life is turned upside down when she becomes the target of the city's newest cult leader, Reverend Roy of the Prophet's Tabernacle. Driven out of her apartment in the midst of a disastrous Mercury retrograde period, she takes shelter with a client who's caring for two elderly aunts. One aunt appears stricken with dementia and the other has fallen under the spell of the Reverend Roy. To add to the confusion, a young man claiming to be a long-lost nephew arrives. The longer he stays, the more dangerous things become. Is the young man truly a member of the family? Can astrology confirm that? Julia's not sure, but one thing she does know is that Mercury wasn't merely the messenger of the gods--he was a trickster and a liar as well.
Praise:
This smartly written debut from di Marco sets the stage for a promising series.--Kirkus Reviews
Di Marco's series starter features a clever plot and a smart and feisty heroine with feet firmly planted on the ground while she searches the stars.--Library Journal
For astrology fans that enjoy a good read, The Madness of Mercury provides an entertaining escape.--Dell Horoscope
Danger figures in the stars for Julia, along with mixed astrological energies, some wolves in sheep's clothing and an amiable stranger with a down-under accent.--BookPage
Connie di Marco begins a fascinating new series...The writing is clever and compelling and the protagonist is smart and gutsy. The villains are seriously sinister and the darkly intricate plot will keep you turning the pages.--Kate Carlisle, New York Times bestselling author
Connie di Marco blends real-life tragedy, heart-rending betrayal, loyal friends, and the kindness of strangers in this fast-paced, entertaining read.--Leslie Budewitz, two-time Agatha Award-winning author of the Seattle Spice Shop Mysteries
The stars may not align for the unlucky characters in The Madness of Mercury, but they certainly do for readers who discover this book. An astrologer with her eyes on her charts and her feet planted firmly on the ground, Julia Bonatti is an original sleuth, juggling astrological readings with a mysterious death and a Jim Jones-like cult leader. Dark wit and darker motivations unite to create a satisfying read.--Kim Fay, Edgar Award-finalist for The Map of Lost Memories
A great read is in the stars With the Zodiac Mysteries, Connie di Marco gives us a bright and interesting heroine and a mystery with plenty of twists and turns. Lots of action and well-written suspense equal good fortune for readers.--Casey Daniels, author of Graveyard Shift
An enjoyable read.--Reviewing the Evidence
Midnight Ink, 9780738749129, 312pp.
Publication Date: June 8, 2016
About the Author
Connie di Marco (Los Angeles, CA) is the bestselling author of the Soup Lovers Mysteries (Penguin), which she published under the name Connie Archer. She has always been fascinated by astrology and is excited to combine her love of the stars with her love of writing mysteries. Visit her at ConniediMarco.com, on Facebook at Connie di Marco (Author), or on Twitter: @askzodia.
or
Not Currently Available for Direct Purchase