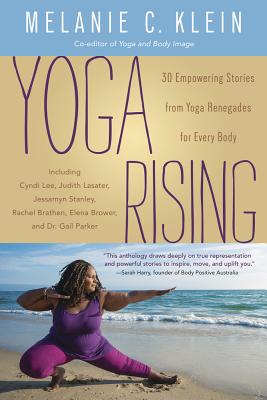 Yoga Rising
30 Empowering Stories from Yoga Renegades for Every Body
Paperback

* Individual store prices may vary.
Description
Courage, truth, and inspiration at the intersection of spiritual practice and social justice
Yoga Rising is a collection of personal essays meant to support your journey toward self-acceptance and self-love. This follow-up to the groundbreaking book Yoga and Body Image features 30 contributors who share stories of major turning points. Explore how body image and yoga intersect with race and ethnicity, sexual orientation, gender identity, dis/ability, socioeconomic status, age, and size as part and parcel of culture and society.
Collectively, we can make space for yoga that is body positive and accessible to the full range of human diversity. With a special emphasis on how you can take action to build community and challenge destructive attitudes and structures, Yoga Rising is a resource for the continuing work of healing ourselves and our world as we move toward liberation for all.
Praise:
"A must-read collection of essays ideal for anyone yearning for more self-acceptance and body peace. Read this book, and I guarantee you'll hear a story that resonates with your own experiences."--Amber Karnes, founder of Body Positive Yoga
"Yoga Rising kicks open the door for evolution through a collection of honest, diverse, and daring stories.. A refreshing dose of inspiration that has the power to transform lives."--Kathryn Budig, yoga teacher and author of Aim True
Llewellyn Publications, 9780738750828, 336pp.
Publication Date: January 8, 2018
About the Author
Melanie C. Klein, MA, is an empowerment coach, thought leader, and influencer in the areas of body confidence, authentic empowerment, and visibility. She is also a successful writer, speaker, and professor of sociology and women's studies. She is the coeditor of Yoga and Body Image (Llewellyn, 2014), Yoga, the Body and Embodied Social Change (Rowman and Littlefield, 2016), Yoga Rising (Llewellyn, 2018), and Embodied Resilience through Yoga (Llewellyn, 2020). She's also a contributor in 21st Century Yoga (Horton & Harvey, 2012), and she's featured in Conversations with Modern Yogis (Shroff, 2014) and Llewellyn's Complete Book of Mindful Living (Llewellyn, 2016). She co-founded the Yoga and Body Image Coalition in 2014 and lives in Santa Monica, California.
or
Not Currently Available for Direct Purchase