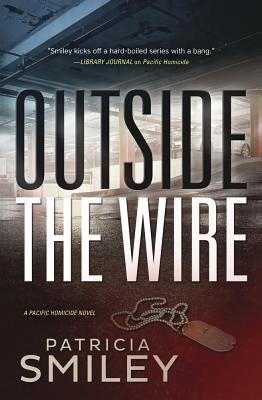 Outside the Wire (Paperback)
Midnight Ink, 9780738752358, 288pp.
Publication Date: November 8, 2017
Description
LAPD homicide detective Davie Richards is called to an airport-parking garage to investigate the shooting of a retired U.S. Army Ranger. Missing personal items point to a robbery, but Davie suspects a more sinister motive when she notices only one military dog tag around the ranger's neck. Could the murderer have taken the other as a memento of the kill?
As Davie unravels baffling clues, one murder becomes two and a pattern begins to emerge. Racing to save the killer's next victim, Davie is led to a shocking twist that challenges her physical and emotional endurance and tests the bonds of brotherhood and friendship.
About the Author
Patricia Smiley (Los Angeles, CA) is a bestselling mystery author whose short fiction has appeared in Ellery Queen Mystery Magazine and Two of the Deadliest, an anthology edited by Elizabeth George. Patricia has taught writing classes at various conferences throughout the US and Canada, and she served on the board of directors of the Southern California Chapter of Mystery Writers of America and as president of Sisters in Crime/Los Angeles. Visit her online at www.PatriciaSmiley.com.
Advertisement