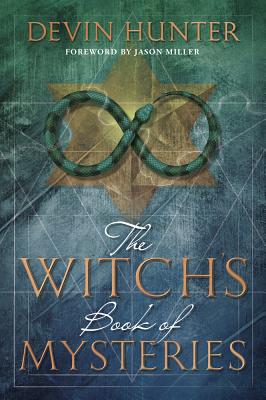 The Witch's Book of Mysteries (Paperback)
Llewellyn Publications, 9780738756561, 336pp.
Publication Date: May 8, 2019
* Individual store prices may vary.
Description
Reclaim Control of Your Magic and Your Life
Transcend Your Limitations and Enter the Pyramid of Light and the Labyrinth of Darkness
Devin Hunter, author of groundbreaking works The Witch's Book of Power and The Witch's Book of Spirits, makes a powerful statement on how you can deepen your Witch Power and further develop your relationships with familiars, guides, spirits, and gods. The Witch's Book of Mysteries invites you to embark on a pivotal journey designed to help break you free of the illusory cultural energies that hold you back from true magical vitality.
With spells and rituals drawn from the author's own book of shadows, this book explores energetic self-orientation, the Witch's Eye, and the Witch's Tree--techniques that will support and embolden you on your quest to achieve personal gnosis. Learn the extraordinary practices of the Witch's Dream and the Witch's Sabbat, and initiate into the mysteries of the Cosmic Grigori, primordial guardians of space, time, matter, energy, and quintessence. Ultimately, the path of the witch takes you to the six gates of the Labyrinth of Diana. Through these gates, the authentic nature of the soul is found and God Herself is revealed.
About the Author
Devin Hunter has been initiated in several occult traditions. Additionally, he's the founder of his own spiritual tradition called Sacred Fires and is the cofounder of the Black Rose Tradition of Witchcraft. He has been serving clients all over the world for almost two decades through his work as a professional psychic-medium and occultist and through his store, The Mystic Dream, in Walnut Creek, California. Devin hosts an AV Club-favorited podcast and publishes the magazine Modern Witch.