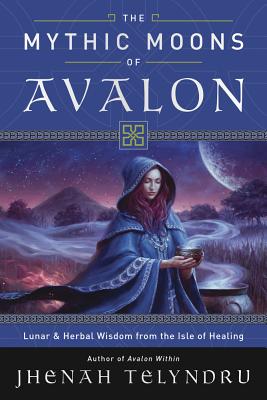 The Mythic Moons of Avalon (Paperback)
Lunar & Herbal Wisdom from the Isle of Healing
Llewellyn Publications, 9780738756851, 408pp.
Publication Date: May 8, 2019
* Individual store prices may vary.
Description
Discover a System of Personal Evolution, Foster a Relationship with the Goddesses of Avalon, and Build a Powerful Connection to the Holy Isle
Reclaim your sovereignty and unlock your greatest potential through an inner journey of self-discovery. The Mythic Moons of Avalon presents an innovative practice, supported by herbs and guided by the phases of the moon, that leads to soul healing and spiritual transformation.
Harness the energies of the thirteen moons of the year, including total lunar eclipses and blue moons, to reveal a path of healing. Delve into Welsh mythology, connect with transformative goddesses, create herbal elixirs, and undertake meditative journeys that promote emotional and spiritual wholeness. This book examines Avalon as a place of psycho-spiritual healing and rebirth--a place where you'll find deep wisdom and personal empowerment by aligning with lunar rhythms. Jhenah Telyndru helps you develop meaningful relationships with goddesses and herbal allies as you walk the inner pathway to the sovereign self within.
Praise:
"A beautifully comprehensive, cohesive, and brilliant approach to transformation through lunar energies, herbal workings, and the tales of the Avalonian goddesses."--Tiffany Lazic, registered psychotherapist and author of The Great Work
About the Author
Jhenah Telyndru (New York) holds an MA in Celtic Studies from the University of Wales, Trinity St. David, and has a bachelor's degree in archaeology. She is the founder of the Sisterhood of Avalon, an international Celtic women's mysteries organization. Jhenah teaches four-day residential training retreats around North America and the UK, and facilitates pilgrimages to sacred sites in the British Isles and Ireland through Mythic Seeker Tours. She is a frequent presenter and guest speaker at academic conferences, religious symposia, Women's Spirituality gatherings, and Pagan festivals. A priestess in the Avalonian Tradition for over 25 years, Jhenah has been following a Pagan path since 1986.