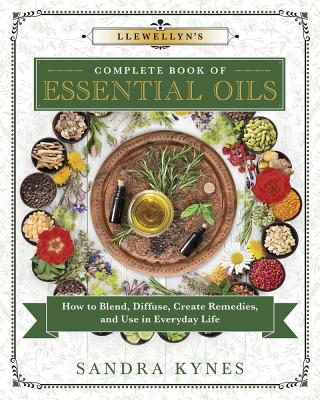 Llewellyn's Complete Book of Essential Oils
How to Blend, Diffuse, Create Remedies, and Use in Everyday Life
Paperback

* Individual store prices may vary.
Description
Recognized throughout history for their pleasing aromas and their spiritual power, essential oils are must-have tools on the journey to wellness in mind, body, and spirit. Llewellyn's Complete Book of Essential Oils is a thorough guide to working with these remarkable extracts, with detailed profiles for sixty-eight essential oils and fourteen carrier oils. Author Sandra Kynes also includes remedies for seventy-five specific ailments. Filled with tips, techniques, and dozens of recipes, this book is designed to help you discover the most important and up-to-date information about essential oils, including:
Choosing Essential Oils by Perfume Note, Scent Group, and Sun Sign
Blending Basics
Medicinal Remedies
Personal Care Products
Aromatherapy and Wellbeing
Chakras
Spiritual and Magical Uses of Essential Oils
Caring for the Home
Balancing Energy with Aromatic Feng Shui
History
Extraction
Carrier Oils
Scientific Names
Safety Guidelines
Marketing Terms
Red Flags
Also discover recipes for:
Birthday Blends
Bath Oils and Salts
Foot Soaks
Compresses
Gels
Massage Oils
Ointments, Salves, and Balms
Sprays
Skin Care
Hair Care
Body Care
Spirituality and Magic
Scented Candles
Fresheners and Deodorizers
General Cleaners
Natural Pest Control
Balancing Energy
Llewellyn Publications, 9780738756875, 336pp.
Publication Date: August 8, 2019
About the Author
Sandra Kynes (Mid-coast Maine) is a member of the Order of Bards, Ovates & Druids and the author of seventeen books, including Star Magic, Llewellyn's Complete Book of Correspondences, Mixing Essential Oils for Magic, and Sea Magic. Additionally, her work has been featured in Utne Reader, The Portal, and Circle Magazine. Sandra's writing also appears regularly in Llewellyn's popular almanacs and datebooks.