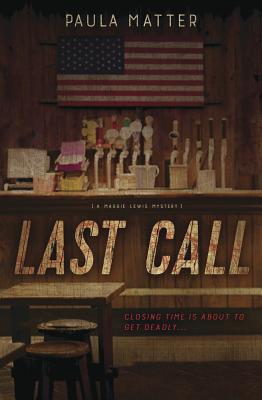 Last Call (Maggie Lewis Mystery #1) (Paperback)
Midnight Ink, 9780738757827, 288pp.
Publication Date: July 8, 2018
* Individual store prices may vary.
Description
On a bad day at work, bartender Maggie Lewis would love to kill a customer or two. On a very bad day, she's accused of doing just that.
Suspended from her job at a Florida VFW after being set up for the murder of Korean war veteran Jack Hoffman, Maggie has no intention of letting herself be framed. And since the police have yet to arrest anybody for the last major crime in town--the murder of Maggie's husband--she's sure they won't try too hard this time, either. So Maggie must produce enough evidence to clear her name, get her job back, and find the killer before she ends up behind the wrong kind of bars. All in a day's work for a bartender who can't hold her beer, her tongue, or her temper.
Praise:
"A heroine who's not only feisty, but sometimes downright funny as well."--Kirkus Reviews
"Raise your glass to Paula Matter for creating Maggie, a positively intoxicating bartender in North DeSoto, Florida."--Nancy Martin, author of the Blackbird Sisters Mysteries
"You will love Paula Matter's delightful debut mystery. Her misfit heroine will win your heart and keep you guessing."--Victoria Thompson, bestselling author of Murder on Union Square
"Fans of Terry Shames, Bill Crider, and Steven F. Havill will want to get to know Maggie."--Booklist
"Matter sprinkles in lots of clues, some of which appear to be laying the ground for Maggie's next outing. Curious readers will look forward to her further adventures."--Publishers Weekly
"Smart, funny. You'll want to run a tab."--Hallie Ephron, New York Times bestselling author of You'll Never Know, Dear
" Maggie] will break your heart and have you laughing out loud "--Annette Dashofy, USA Today bestselling author of the Zoe Chambers Mysteries
About the Author
Paula Matter (rhymes with otter) is the author of the Maggie Lewis mysteries which take place in a small town in North Florida. Paula's short stories have been published in anthologies in the US and Germany. Originally from Miami, Florida, Paula kept moving north until she arrived in north central Pennsylvania, where she lives with her family.