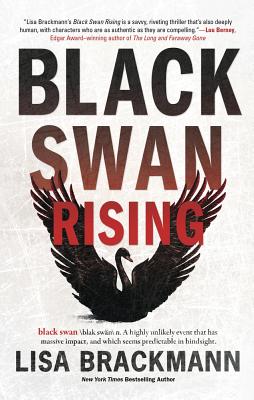 Black Swan Rising
Hardcover

* Individual store prices may vary.
Other Editions of This Title:
Digital Audiobook (9/7/2018)
Paperback (12/22/2020)
Compact Disc (9/8/2018)
MP3 CD (9/8/2018)
Description
Sarah Price wants a career in politics. But she has a secret past that won't stay past, threatening her job on a San Diego congressman's reelection campaign.
Casey Cheng wants a story. An ambitious local television reporter, Casey needs to get her career back on track after being seriously injured in a mass shooting. When she investigates the man who nearly killed her, she finds a connection to a group of online harassers called #TrueMen--and realizes her shooter may not be the only killer they have inspired.
Casey's investigation and Sarah's secret put them both in the crosshairs of a hate group that targets anyone they've deemed to be against their cause, including Sarah's boss, the congressman. Now Sarah and Casey have a choice to make--do they hide? Or do they fight back?
Praise:
Riveting thriller...Readers will furiously turn the pages to see how it all ends.--Publishers Weekly
An absorbing and apocalyptic vision of American politics that leaves the reader hoping it will never come to this.--Booklist
Lisa Brackmann's Black Swan Rising is a savvy, riveting thriller that's also deeply human, with characters who are as authentic as they are compelling.--Lou Berney, Edgar Award-winning author of The Long and Faraway Gone
Lisa Brackmann writes with passion, guts, and heart. Black Swan Rising is more than just a thrilling read--it's also an unflinching examination of the corrosive effects of racism and misogyny on American culture.--Chris Holm, Anthony Award-winning author of The Killing Kind
A raw and masterful mystery thriller that explores the real darkness of the human soul.--Jonathan Maberry, New York Times bestselling author of Glimpse
Black Swan Rising is more than the sum of its parts...In this gripping novel, Lisa Brackmann tells not just the harrowing story of two women impacted by a mass shooting but the story of America's deadly love affair with guns.--Bryn Greenwood, New York Times bestselling author of All the Ugly and Wonderful Things
Reading Black Swan Rising is like peering into a dark mirror that perfectly captures the societal turmoil and fractures of our time. Thrilling and provocative, this is Lisa Brackmann at the top of her game.--Hilary Davidson, Anthony Award-winning author of One Small Sacrifice
Fierce, fearsome, and distressingly relevant.--Elizabeth Little, Los Angeles Times bestselling author of Dear Daughter
At the intersection of current issues and events, Black Swan Rising is a gripping story that rockets forward with action and suspense.--Jamie Mason, author of Monday's Lie
An important book that looks at where our currently divided political climate could take us, and where it already has.--Catherine McKenzie, bestselling author of The Good Liar
A smart thriller that captures the heat of our country's moral and civic battles.--Kim Fay, author of The Map of Lost Memories
A terrifying novel that focuses on a political campaign plagued by gun violence and misogyny. It cuts deep in a way that is all too distressingly believable, but Brackmann's smart prose and winning female protagonists go a long way towards fighting the darkness.--Steph Cha, author of Dead Soon Enough
Black Swan Rising is a must-read for everyone who cares about what's happening in our country.--Libby Fischer Hellmann, author of Set the Night on Fire
Reflects the turbulent times of today and, in doing so, provides an entertaining and thought-provoking tale.--Suspense Magazine
Midnight Ink, 9780738759470, 432pp.
Publication Date: September 8, 2018
About the Author
Lisa Brackmann has worked as an executive at a major motion picture studio, an issues researcher in a presidential campaign, and was the singer/songwriter/bassist in an LA rock band. Her debut novel, Rock Paper Tiger, set on the fringes of the Chinese art world, made several Best of 2010 lists, including Amazon's Top 100 Novels and Top 10 Mystery/Thrillers, and was nominated for the Strand Magazine Critics Award for Best First Novel. Her second novel, Getaway, won the Los Angeles Book Festival Grand Prize and was nominated for the T. Jefferson Parker SCIBA award. Hour of the Rat, #2 in the Ellie McEnroe series, was short-listed for Left Coast's World Mystery award, as was Ellie #3, Dragon Day (and was a Seattle Times Top 10 Mystery Pic). Lisa lives in San Diego with a couple of cats, far too many books, and a bass ukulele. Visit Lisa online at www.LisaBrackmann.com.
or
Not Currently Available for Direct Purchase