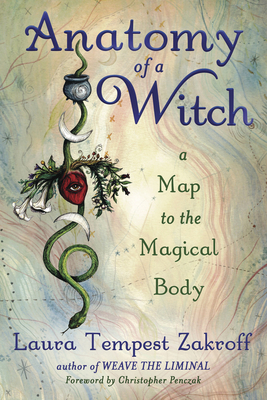 Anatomy of a Witch
A Map to the Magical Body
Paperback

* Individual store prices may vary.
Other Editions of This Title:
Digital Audiobook (6/7/2021)
MP3 CD (6/8/2021)
Compact Disc (6/8/2021)
Description
Embodied Witchcraft for Wisdom, Connection & Power
This book is a guide to the most magical tool in your possession--your body. Not just your physical flesh-and-blood body, but also your symbolic Witch body, the conduit for bringing the material and metaphysical worlds together. Within these pages, you will explore hands-on magical practices, exercises, and sigils related to your Witch Lungs, Heart, Bones, Mind, and the spiraling path of your inner Serpent.
Magic flows most freely when you are in tune with your intuition and the power of your true self. Through dozens of activities, prompts, spells, and rituals, Anatomy of a Witch helps you connect with the seen and unseen worlds, your ancestors, and your living community. Discover the profound correspondences between your body, the mythos of tarot, and the five elements. Practice rituals and activities for protection, warding, rebalancing your home, and embracing your body, despite the limiting beliefs that society foists upon us. This book teaches you how to tap into your personal power as you make a pilgrimage to the inner workings of your true self.
Includes a foreword by Christopher Penczak, bestselling author of The Temple of Witchcraft series
Llewellyn Publications, 9780738764344, 194pp.
Publication Date: June 8, 2021
About the Author
Laura Tempest Zakroff is a professional artist, author, dancer, designer, and Modern Traditional Witch. She holds a BFA from the Rhode Island School of Design (RISD) and her myth-inspired artwork has received awards and honors worldwide. Laura blogs for Patheos as A Modern Traditional Witch, for Witches & Pagans magazine as Fine Art Witchery, and contributes to The Witches' Almanac. She is the author of several bestselling books, including Sigil Witchery and Weave the Liminal. She is also the creator of the bestselling Liminal Spirits Oracle. Laura lives in New England.Christopher Penczak is a Witch, teacher, writer, and healing practitioner. He is the founder of the world-renowned Temple of Witchcraft and the Temple Mystery School, and he is the creator of the bestselling Temple of Witchcraft books and audio CDs. Christopher is an ordained minister, serving the New Hampshire and Massachusetts pagan and metaphysical communities through public rituals, private counsel, and teaching. He also travels extensively and teaches throughout the United States. Christopher lives in New Hampshire.