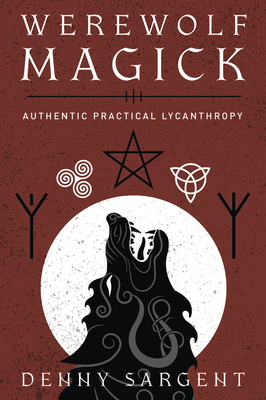 Werewolf Magick
Authentic Practical Lycanthropy
Paperback

* Individual store prices may vary.
Description
Unleash the Wolf Within
Raise your confidence, connect to your primal self, and deepen your spirituality with this empowering book of lycanthropic magick. Featuring authentic shape-shifting rituals, spells, meditations, and folklore, Werewolf Magick shows you how to awaken your inner wolf and transform into a happier, braver, and freer person.
Denny Sargent leads you on a life-changing journey into the world of primal magick. This practical book reveals how to embrace your fearless Animalself through dozens of hands-on exercises and ancient techniques. Learn to shed the restrictions of modern society and answer the call of your feral being. Master spiritual shape-shifting and meet wolf deities. Discover effective tools, invocations, and symbols to enhance your practice. This ecstatic guide helps bring forth your powerful werewolf self and reach your full, natural potential.
Llewellyn Publications, 9780738764450, 240pp.
Publication Date: September 8, 2020
About the Author
Denny Sargent (Seattle, WA) is a writer, artist, and university instructor who has a master's degree in history/intercultural communications. He has been an initiate of a number of esoteric traditions and groups, including Welsh Traditional Craft, CAW, CES, Voxas Rimotae, Voodoo Spiritual Temple, Shinto, and others. He has written for magazines and anthologies in the US and Japan, and has written books and articles on Paganism, Western Occultism, spells, folklore, magick, and tantra. Denny is the author of eight books and coauthor of two more, including The Book of Dog Magic. He is also Elder Guardian of the Horus Maat Lodge and has edited and written parts of two books for the organization.