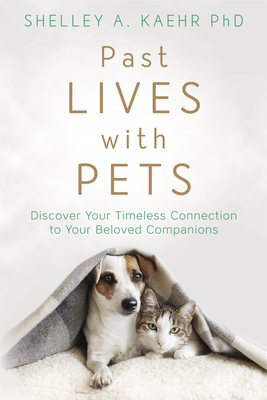 Past Lives with Pets
Discover Your Timeless Connection to Your Beloved Companions
Paperback

* Individual store prices may vary.
Description
Discover Your Pet's Important Role in Your Soul's Journey
Our animal companions' distinct personalities and behaviors can reveal that they have already lived with us and loved us...in a different life. Past Lives with Pets features amazing case studies of people who knew their pets in a previous life. This remarkable book also provides guided journeys that help you uncover past connections and heal from the trauma of losing your companion.
Could your cat have within him the reincarnated soul of your dog? Are your pet's idiosyncrasies so familiar because she played a vital role in your soul's journey? Through past life regression, hypnotherapy practices, and client stories, Shelley A. Kaehr helps confirm the answer is yes. By exploring the many facets of past life study, this inspiring book encourages you to heal and grow through the soul lessons you share with your pet.
Llewellyn Publications, 9780738764504, 208pp.
Publication Date: May 8, 2020
About the Author
Shelley A. Kaehr (Dallas, TX) is a past life regression practitioner in private practice for twenty years. Shelley received her PhD in Parapsychic Science from the American Institute of Holistic Theology, and is a Certified Clinical Hypnotherapist, Master Hypnotist, and Master Practitioner of Neuro Linguistic Programming. Her work has been featured on Coast to Coast AM with George Noory and William Shatner's Weird or What.