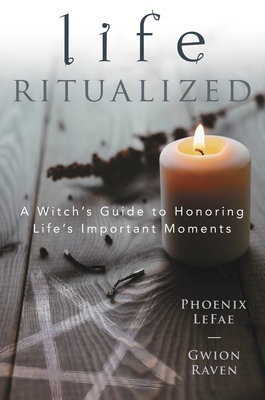 Life Ritualized
A Witch's Guide to Honoring Life's Important Moments
Paperback

* Individual store prices may vary.
Llewellyn Publications, 9780738764658, 288pp.
Publication Date: February 8, 2021
About the Author
Phoenix LeFae (Sebastopol, CA) is a professional reader, rootworker, teacher, and ritualist. She has been practicing witchcraft for almost thirty years, and her teachings are connected to the Reclaiming Tradition, Druidry, and Gardnerian Wicca. She is also the owner of an esoteric Goddess shop called Milk & Honey.Gwion Raven is a tattooed Pagan, writer, traveler, musician, cook, kitchen witch, occult shop owner, and teacher. Although initiated in three magickal traditions, Gwion describes his practice as virtually anything that celebrates the wild, sensuous, living, breathing, dancing, ecstatic, divine experiences of this lifetime.Born and raised in London, England, he now resides in Northern California and shares space with redwood trees, the Pacific Ocean, and his beloved partner.