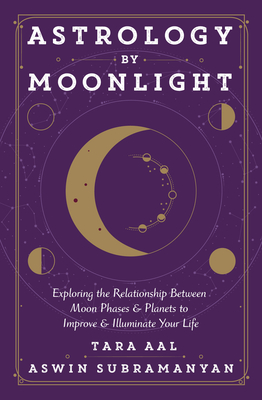 Astrology by Moonlight
Exploring the Relationship Between Moon Phases & Planets to Improve & Illuminate Your Life
Paperback

* Individual store prices may vary.
Description
Uncover New Depths of Yourself by Decoding Moon- Planet Cycles and Phases
Uniting Eastern and Western astrological approaches, this groundbreaking book takes you beyond static birth chart analysis and immerses you in the diverse power of the lunar phases. Tara Aal and Aswin Subramanyan reveal how the phasal relationships between the Moon and planets help you recognize your personal rhythms and find more meaning and purpose in everything you do.
Astrology by Moonlight presents each Moon-planet interaction--and each phase during that interaction--as an opportunity to deepen your understanding of yourself. Start a new relationship or reignite a current one when Moon-Venus is in the new phase. Discover how Moon-Pluto in the balsamic phase helps you resolve issues of the past and move forward. Whether you're a beginner or seasoned practitioner, Astrology by Moonlight offers illuminating insights for every step of your cosmic journey.
Llewellyn Publications, 9780738768717
Publication Date: January 8, 2022
About the Author
Tara Aal (Los Angeles, CA) is the resident astrologer and lead writer for the metaphysical company Sage Goddess. She speaks at astrology conferences, including UAC and NORWAC, and she also writes for various publications.Aswin Subramanyan (Chennai, India) is an astrologer, writer, and publisher. He is a fifth-generation astrologer and the founder of Celestial Vibes, an astrology e-magazine.