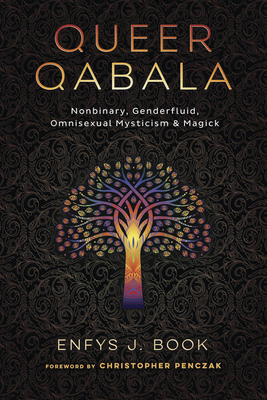 Queer Qabala
Nonbinary, Genderfluid, Omnisexual Mysticism & Magick
Paperback

* Individual store prices may vary.
Other Editions of This Title:
Digital Audiobook (6/7/2022)
Description
Branch Out from Antiquated Interpretations of the Tree of Life
The Hermetic Qabala is a rich framework for understanding ourselves, our magickal workings, and the universe, but outdated descriptions often obscure its intrinsically queer and nonbinary nature. With updated, affirming metaphors and word choices, this guide makes it easy for any practitioner to understand and work with the Tree of Life.
Enfys J. Book welcomes queer people to see themselves in this esoteric practice and offers a variety of pathworkings, exercises, and spells to deepen their understanding of each of the ten spheres (sephiroth). This book also shows magickal communities how to co-create spaces and structures that are friendlier and more accessible to all. With a modern, inclusive understanding of the Qabala, you can enhance your magick, fully express your identity, and conquer life's challenges.
Llewellyn Publications, 9780738769769, 229pp.
Publication Date: June 8, 2022
About the Author
Enfys J. Book is a nonbinary, bisexual clergy member within the Assembly of the Sacred Wheel, and the High Priest of the Fellowship of the Ancient White Stag coven near Washington, DC. Enfys has been studying Qabala since 2012 and teaching classes on magickal practice since 2015, including presenting at the Sacred Space Conference.Christopher Penczak is a Witch, teacher, writer, and healing practitioner. He is the founder of the world-renowned Temple of Witchcraft and the Temple Mystery School, and he is the creator of the bestselling Temple of Witchcraft books and audio CDs. Christopher is an ordained minister, serving the New Hampshire and Massachusetts Pagan and metaphysical communities through public rituals, private counsel, and teaching. He also travels extensively and teaches throughout the United States. Christopher lives in New Hampshire.