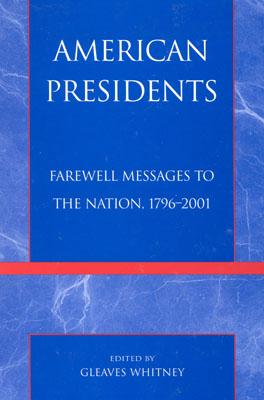 American Presidents
Farewell Messages to the Nation, 1796-2001
Hardcover

* Individual store prices may vary.
Description
This unique collection presents the parting words of the presidents of the United States, from Washington to Clinton. A hybrid of literary masterpiece and historical document, each speech reveals its orator's ideals for the government of our nation. Washington warns against entangling alliances; Eisenhower voices his fears of the military-industrial complex; Reagan leaves office with an emotional call for the remembrance of American history in service of informed patriotism. Each leader imparts his final message in the form of a political or moral lesson--or, in some cases, prophecy. Read consecutively from president to president, the messages form a wonderfully American conversation. This conversation invokes ordered liberty, self-government under the rule of law, and the nation's special destiny in human history, and it transcends partisan politics.The volume is prefaced by a detailed introduction discussing the importance of the valedictory address and the power of presidential rhetoric, and each speech is preceded by a brief contextualizing statement. In the last official words of each president, readers will find cautions, hopes, and suggestions relevant for today's world and future generations. American Presidents is an invaluable reference, especially for scholars of the presidency, but also for anyone interested in the history, politics, and culture of the United States.
Lexington Books, 9780739103937, 477pp.
Publication Date: November 25, 2002
About the Author
Gleaves Whitney is Chief Speech Writer for John Engler, Governor of Michigan, and is a Senior Fellow of the Russell Kirk Center for Cultural Renewal. He did his graduate studies in History from the University of Michigan and has taught at the University of Michigan and Colorado State University.
or
Not Currently Available for Direct Purchase