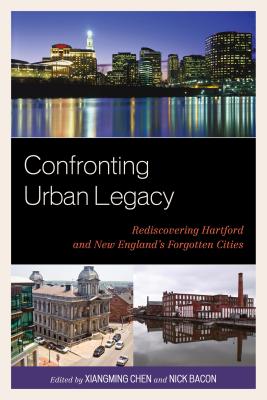 Confronting Urban Legacy (Paperback)
Rediscovering Hartford and New England's Forgotten Cities
Lexington Books, 9780739149430, 324pp.
Publication Date: April 15, 2015
Other Editions of This Title:
Hardcover (11/5/2013)
* Individual store prices may vary.
Description
Confronting Urban Legacy fills a critical lacuna in urban scholarship. As almost all of the literature focuses on global cities and megacities, smaller, secondary cities, which actually hold the majority of the world's population, are either critically misunderstood or unexamined in their entirety. This neglect not only biases scholars' understanding of social and spatial dynamics toward very large global cities but also maintains a void in students' learning. This book specifically explores the transformative relationship between globalization and urban transition in Hartford, Connecticut, while including crucial comparative chapters on other forgotten New England cities: Portland, Maine, along with Lawrence and Springfield, Massachusetts. Hartford's transformation carries a striking imprint of globalization that has been largely missed: from its 17th century roots as New England first inland colonial settlement, to its emergence as one of the world's most prosperous manufacturing and insurance metropolises, to its present configuration as one of America's poorest post-industrial cities, which by still retaining a globally lucrative FIRE Sector is nevertheless surrounded by one of the nation's most prosperous metropolitan regions. The myriad of dilemmas confronting Hartford calls for this book to take an interdisciplinary approach. The editors' introduction places Hartford in a global comparative perspective; Part I provides rich historical delineations of the many rises and (not quite) falls of Hartford; Part II offers a broad contemporary treatment of Hartford by dissecting recent immigration and examining the demographic and educational dimensions of the city-suburban divide; and Part III unpacks Hartford's current social, economic, and political situation and discusses what the city could become. Using the lessons from this book on Hartford and other underappreciated secondary cities in New England, urban scholars, leaders, and residents alike can gain a number of essential insights--both theoretical and practical.
About the Author
Xiangming Chen is founding dean and director of the Center for Urban and Global Studies and Paul Raether Distinguished Professor of Global Urban Studies and Sociology at Trinity College in Hartford, Connecticut, as well as visiting professor in the School of Social Development and Public Policy at Fudan University in Shanghai, China. He is author of As Borders Bend: Transnational Spaces on the Pacific Rim. Nick Bacon is research associate in urban studies at the Center for Urban and Global Studies and a PhD candidate in cultural anthropology at the CUNY Graduate Center.