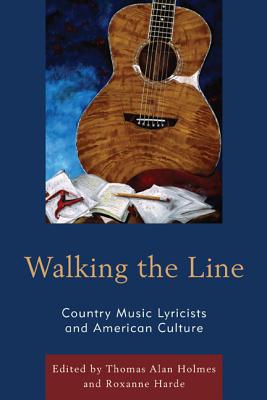 Walking the Line
Country Music Lyricists and American Culture
Paperback

* Individual store prices may vary.
Other Editions of This Title:
Hardcover (10/24/2013)
Description
An insightful and wide-ranging look at one of America's most popular genres of music, Walking the Line: Country Music Lyricists and American Culture examines how country songwriters engage with their nation's religion, literature, and politics. Country fans have long encountered the concept of walking the line, from Johnny Cash's "I Walk the Line" to Waylon Jennings's "Only Daddy That'll Walk the Line." Walking the line requires following strict codes, respecting territories, and, sometimes, recognizing that only the slightest boundary separates conflicting allegiances. However, even as the term acknowledges control, it suggests rebellion, the consideration of what lies on the other side of the line, and perhaps the desire to violate that code. For lyricists, the line presents a moment of expression, an opportunity to relate an idea, image, or emotion. These lines represent boundaries of their kind as well, but as the chapters in this volume indicate, some of the more successful country lyricists have tested and expanded the boundaries as they have challenged musical, social, and political conventions, often reevaluating what "country" means in country music. From Jimmie Rodgers's redefinitions of democracy, to revisions of Southern Christianity by Hank Williams and Willie Nelson, to feminist retellings by Loretta Lynn and Dolly Parton to masculine reconstructions by Merle Haggard and Cindy Walker, to Steve Earle's reworking of American ideologies, this collection examines how country lyricists walk the line. In weighing the influence of the lyricists' accomplishments, the contributing authors walk the line in turn, exploring iconic country lyrics that have tested and expanded boundaries, challenged musical, social, and political conventions, and reevaluated what "country" means in country music.
Lexington Books, 9780739169674, 288pp.
Publication Date: October 9, 2013
About the Author
Thomas Alan Holmes is a professor of English who teaches American literature in the East Tennessee State University Department of Literature and Language; he also serves as associate dean of arts and sciences. Roxanne Harde is associate dean--research, an associate professor of English, and a McCalla University Professor at the University of Alberta--Augustana Faculty. She studies and teaches American literature and culture.