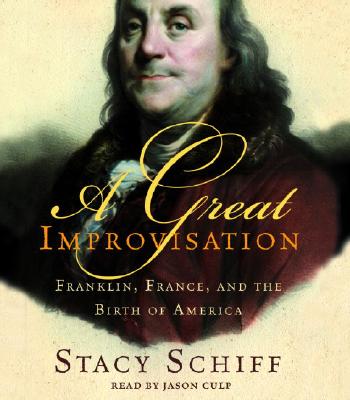 A Great Improvisation: Franklin, France, and the Birth of America (Compact Disc, Abridged)
Franklin, France, and the Birth of America
Random House Audio, 9780739320389
Publication Date: March 22, 2005
* Individual store prices may vary.
or
Not Currently Available for Direct Purchase
Description
"In December 1776, a small boat delivered an old man to France." So begins a dazzling narrative account of Benjamin Franklin's French mission, the most exacting–and momentous–eight years of his life.

When Franklin embarked, the colonies were without money, munitions, gunpowder or common cause; like all adolescents, they were to discover that there was a difference between declaring independence and achieving it. To close that gap Franklin was dispatched to Paris, amid great secrecy, across a winter sea thick with enemy cruisers. He was seventy years old, without any diplomatic training, and possessed of the most rudimentary French. He was also among the most famous men in the world.

Franklin well understood that he was off on the greatest gamble of his career. But despite minimal direction from Congress he was soon outwitting the British secret service and stirring passion for a republic in an absolute monarchy.

In A Great Improvisation Pulitzer Prize winner Stacy Schiff offers an utterly fresh and thrilling account of Franklin's Parisian adventure and of America's debut on the world stage. Schiff weaves her tale of international intrigue from new and little-known primary sources, working from a host of diplomatic archives, family papers, and intelligence reports. From her pages emerges a particularly human Founding Father, as well as a vivid sense of how fragile, improvisational, and international was our country's bid for independence.
About the Author
STACY SCHIFF is the author of "Vera (Mrs. Vladimir Nabokov)," which won the 2000 Pulitzer Prize for biography and "Saint-Exupery: A Biography," which was a finalist for the 1995 Pulitzer Prize. She has received fellowships from the Guggenheim Foundation and the National Endowment for the Humanities and was a Director's Fellow at the Center for Scholars and Writers at the New York Public Library. Schiff lives in New York City.
Advertisement