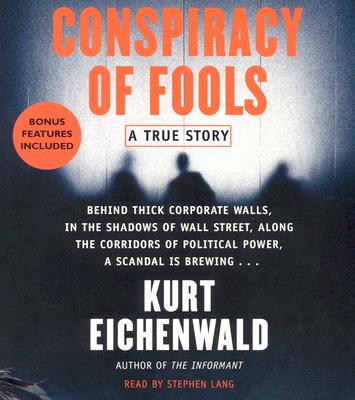 Conspiracy of Fools
A True Story
Compact Disc

* Individual store prices may vary.
Other Editions of This Title:
Digital Audiobook (3/13/2005)
Digital Audiobook (3/28/2005)
Paperback (12/27/2005)
Description
From an award-winning New York Times reporter comes the full, mind-boggling story of the lies, crimes, and ineptitude behind the spectacular scandal that imperiled a presidency, destroyed a marketplace, and changed Washington and Wall Street forever . . .
It was the corporate collapse that appeared to come out of nowhere. In late 2001, the Enron Corporation--a darling of the financial world, a company whose executives were friends of presidents and the powerful--imploded virtually overnight, leaving vast wreckage in its wake and sparking a criminal investigation that would last for years. But for all that has been written about the Enron debacle, no one has yet to re-create the full drama of what has already become a near-mythic American tale.

Until now. With Conspiracy of Fools, Kurt Eichenwald transforms the unbelievable story of the Enron scandal into a rip-roaring narrative of epic proportions, one that is sure to delight readers of thrillers and business books alike, achieving for this new decade what books like Barbarians at the Gate and A Civil Action accomplished in the 1990's.

Written in the roller-coaster style of a novel, the compelling narrative takes readers behind every closed door--from the Oval Office to the executive suites, from the highest reaches of the Justice Department to the homes and bedrooms of the top officers. It is a tale of global reach--from Houston to Washington, from Bombay to London, from Munich to Sao Paolo--laying out the unbelievable scenes that twisted together to create this shocking true story.

Eichenwald reveals never-disclosed details of a story that features a cast including George W. Bush, Dick Cheney, Paul O'Neill, Harvey Pitt, Colin Powell, Gray Davis, Arnold Schwarzenegger, Alan Greenspan, Ken Lay, Andy Fastow, Jeff Skilling, Bill Clinton, Rupert Murdoch and Sumner Redstone. With its you-are-there glimpse into the secretive worlds of corporate power, Conspiracy of Fools is an all-true financial and political thriller of cinematic proportions.
Praise For Conspiracy of Fools: A True Story…
Praise for Kurt Eichenwald's bestseller, The Informant:

"Ranks with A Civil Action as one of the best nonfiction books of the last decade."
—New York Times Book Review

"The thriller of the year—and it's all true!"
—Dallas Morning News

"One of the most intriguing—and nearly unbelievable—nonfiction books in recent memory . . . a tangled tale worthy of John Le Carré."
—Portland Oregonian

"A compelling narrative . . . a business book for Grisham readers."
—Chicago Tribune

"Reads like a well-written whodunit."
—Denver Post

"A spellbinding account, as much of a page-turner as a Grisham novel."
—Washington Monthly

"I guarantee it'll keep you reading late into the night."
—Jonathan Harr, author of A Civil Action

Random House Audio, 9780739324493
Publication Date: November 29, 2005
About the Author
Kurt Eichenwald has written about white-collar crime and corporate cor-ruption for "The New York Times" for more than a decade. A two-time winner of the prestigious George Polk award for excellence in journalism and a finalist for the 2000 Pulitzer Prize, he has been repeatedly selected by "TJFR Business News Reporter" as one of the nation's most influential financial journalists. For the Times, he has covered some of the highest-profile news stories emanating from the business world, including the Archer Daniels Midland story, and he is the author of "Serpent on the Rock." Eichenwald lives in Westchester County, outside New York City, with his wife and three children. "From the Audio Download edition."
or
Not Currently Available for Direct Purchase