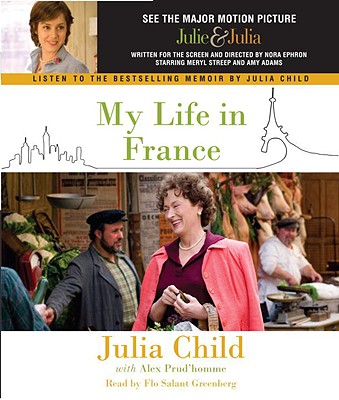 My Life in France (Compact Disc, Abridged)
Random House Audio, 9780739325261
Publication Date: April 4, 2006
* Individual store prices may vary.
Description
In her own words, here is the captivating story of Julia Child's years in France, where she fell in love with French food and found 'her true calling.'

From the moment the ship docked in Le Havre in the fall of 1948 and Julia watched the well-muscled stevedores unloading the cargo to the first perfectly soigné meal that she and her husband, Paul, savored in Rouen en route to Paris, where he was to work for the USIS, Julia had an awakening that changed her life. Soon this tall, outspoken gal from Pasadena, California, who didn't speak a word of French and knew nothing about the country, was steeped in the language, chatting with purveyors in the local markets, and enrolled in the Cordon Bleu.

After managing to get her degree despite the machinations of the disagreeable directrice of the school, Julia started teaching cooking classes herself, then teamed up with two fellow gourmettes, Simone Beck and Louisette Bertholle, to help them with a book they were trying to write on French cooking for Americans. Throwing herself heart and soul into making it a unique and thorough teaching book, only to suffer several rounds of painful rejection, is part of the behind-the-scenes drama that Julia reveals with her inimitable gusto and disarming honesty.

Filled with the beautiful black-and-white photographs that Paul loved to take when he was not battling bureaucrats, as well as family snapshots, this memoir is laced with wonderful stories about the French character, particularly in the world of food, and the way of life that Julia embraced so wholeheartedly. Above all, she reveals the kind of spirit and determination, the sheer love of cooking, and the drive to share that with her fellow Americans that made her the extraordinary success she became.

Le voici. Et bon appétit!
About the Author
Julia Child was born in Pasadena, California. She was graduated from Smith College and worked for the OSS during World War II in Ceylon and China, where she met Paul Child. After they married they lived in Paris, where she studied at the Cordon Bleu and taught cooking with Simone Beck and Louisette Bertholle, with whom she wrote the first volume of "Mastering the Art of French Cooking "(1961). In 1963, Boston's WGBH launched "The French Chef "television series, which made her a national celebrity, earning her the Peabody Award in 1965 and an Emmy in 1966. Several public television shows and numerous cookbooks followed. She died in 2004.
Praise For My Life in France…
"Exuberant, affectionate, and boundlessly charming . . . It chronicles, in mouth-watering detail, the meals and the food markets the sparked her interest in French cooking . . . It also tells the story of the inspired partnership between Child . . . and her husband, Paul . . . Every day in France brought a thrilling new discovery, but Child's capacity for wonder and delight co-existed with 'show me' skepticism . . . It is a wonderful picture of the most successful American export to France since Benjamin Franklin."
–William Grimes, The New York Times

"In mouth-watering detail, her learning years in Paris and the stellar career that followed."
–Meeta Agrawal, Life Magazine

"Captures her charm, warmth, and, above all, her determined and robust spirit . . . Anyone who has heard her on television will immediately recognize the frank, jovial, and embracing tone."
–John Skoyles, The Seattle Times/Associated Press


"What a joy . . . charming . . . inspiring."
–Jennifer Reese, Entertainment Weekly

"Like a surprise nougat bursting from the center of a chocolate truffle, My Life in France also serves up her moving romance with the Renaissance man of her life . . . her husband, Paul Child."–Andrew Marton, The Philadelphia Inquirer
or
Not Currently Available for Direct Purchase