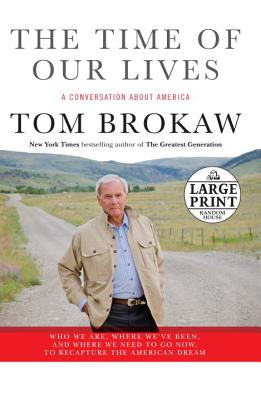 The Time of Our Lives: A Conversation about America (Paperback)
A Conversation about America
Random House Large Print Publishing, 9780739326831, 400pp.
Publication Date: November 1, 2011
* Individual store prices may vary.
or
Not Currently Available for Direct Purchase
Description
Tom Brokaw, known and beloved for his landmark work in American journalism and for the
New York Times
bestsellers
The Greatest Generation
and
Boom ,
now turns his attention to the challenges that face America in the new millennium, to offer reflections on how we can restore America's greatness.
"What happened to the America I thought I knew?" Brokaw writes. "Have we simply wandered off course, but only temporarily? Or have we allowed ourselves to be so divided that we're easy prey for hijackers who could steer us onto a path to a crash landing? . . . I do have some thoughts, original and inspired by others, for our journey into the heart of a new century."
Rooted in the values, lessons, and verities of generations past and of his South Dakota upbringing, Brokaw weaves together inspiring stories of Americans who are making a difference and personal stories from his own family history, to engage us in a conversation about our country and to offer ideas for how we can revitalize the promise of the American Dream.
Inviting us to foster a rebirth of family, community, and civic engagement as profound as the one that won World War II, built our postwar prosperity, and ushered in the Civil Rights era, Brokaw traces the exciting, unnerving changes in modern life--in values, education, public service, housing, the Internet, and more--that have transformed our society in the decades since the age of thrift in which he was raised. Offering ideas from Americans who are change agents in their communities, in
The Time of Our Lives,
Brokaw gives us, a wise, honest, and wide-ranging book, a nourishing vision of hopefulness in an age of diminished expectations.
From the Hardcover edition.
About the Author
Tom Brokaw is the author of seven bestsellers: The Greatest Generation, The Greatest Generation Speaks, An Album of Memories, Boom!, The Time of Our Lives, A Long Way from Home, and A Lucky Life Interrupted. A native of South Dakota, he graduated from the University of South Dakota, and began his journalism career in Omaha and Atlanta before joining NBC News in 1966. Brokaw was the White House correspondent for NBC News during Watergate, and from 1976 to 1981 he anchored Today on NBC. He was the sole anchor and managing editor of NBC Nightly News with Tom Brokaw from 1983 to 2005. He continues to report for NBC News, producing long-form documentaries and providing expertise during breaking news events. Brokaw has won every major award in broadcast journalism, including two DuPonts, three Peabody Awards, and several Emmys, including one for lifetime achievement. In 2014, he was awarded the Presidential Medal of Freedom. He lives in New York and Montana.
Praise For The Time of Our Lives: A Conversation about America…
Praise for The Time of Our Lives

"With commonsense values, [Brokaw] appeals to Americans to recommit to family
and community, increase civic engagement, and make sacrifices in an effort to ensure some security for generations to come. An engaging recollection of the achievements of the past, the realities of the present, and the promise of the future."--Booklist

"[Brokaw] jumps into triage mode with this tenderhearted, nostalgic journalistic roundup, just in time for the upcoming presidential election ... Brokaw is especially good at working the human-interest angle ... An ever-upbeat message from the well-connected yet modest veteran journalist."--Kirkus Reviews

Praise for Boom!
 
"[Brokaw] approaches this magnum opus with warmth, curiosity and conviction, the same attributes that worked so well for his Greatest Generation."—The New York Times
 
"Brokaw does an excellent job of capturing an exciting, controversial period in American history and Boom! is a worthy addition to his growing canon."—New York Post
 
Praise for The Greatest Generation
 
"Offers welcome inspiration . . . It is impossible to read even a few of these accounts and not be touched by the book's overarching message: We who followed this generation have lived in the midst of greatness."—The Washington Times
Advertisement