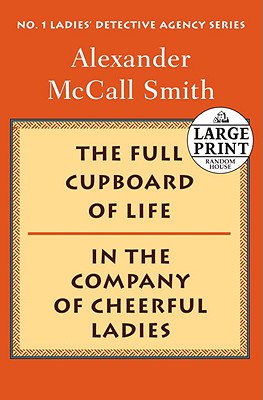 Full Cupboard of Life/In the Company of Cheerful Ladies (Paperback, Large Print)
Random House Large Print, 9780739328293, 704pp.
Publication Date: December 23, 2008
Other Editions of This Title:
Paperback (1/25/2005)
Hardcover (4/20/2004)
Compact Disc (2/24/2004)
Hardcover, Large Print, Large Print (4/1/2004)
Audio Cassette (4/1/2004)
Prebound (1/25/2005)
* Individual store prices may vary.
Description

Full Cupboard of Life
In the fifth book in the prodigiously successful series, traditionally built, eminently sensible Mma Precious Ramotswe continues her enterprise at the No. 1 Ladies' Detective Agency in Gaborone, Botswana, a country that is indeed fortunate.

Still engaged to the estimable Mr J.L.B. Matekoni, Mma Ramotswe understands that she should not put too much pressure on him, as he has other concerns, especially a hair-raising request from the ever persuasive Mma Potokwane, matron of the orphan farm. Besides Mma Ramotswe herself has weighty matters on her mind. She has been approached by a wealthy lady to check up on several suitors. Are these men interested in the lady or just her money? This may be a difficult case, but it's just the kind of problem Mma Ramotswe likes and she is, as we know, a very intuitive lady.

In the Company of Cheerful Ladies
Precious is busier than usual at the detective agency when she discovers an intruder in her house on Zebra Drive—and perhaps even more baffling--a pumpkin on her porch. Her associate, Mma Makutsi, also has a full plate. She's taken up dance lessons, only to be partnered with a man with two left feet. And at Tlokweng Road Speedy Motors, where Mr J.L.B. Matekoni is already overburdened with work, one of his apprentices has run off with a wealthy older woman. But what finally rattles Mma Ramotswe's normally unshakable composure is a visitor who forces her to confront a difficult secret from her past.
About the Author
Alexander McCall Smith is the author of the huge international phenomenon, "The No. 1 Ladies' Detective Agency," and "The Sunday Philosophy Club "series. He was born in what is now known as Zimbabwe and he was a law professor at the University of Botswana and at Edinburgh University. He lives in Scotland, where in his spare time he is a bassoonist in the RTO (Really Terrible Orchestra). His website is www.alexandermccallsmith.com.
or
Not Currently Available for Direct Purchase