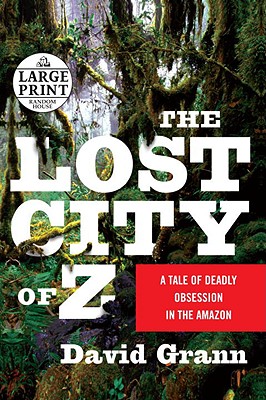 The Lost City of Z (Paperback, Large Print)
A Tale of Deadly Obsession in the Amazon
Random House Large Print, 9780739328347, 528pp.
Publication Date: February 24, 2009
Other Editions of This Title:
Digital Audiobook (2/23/2009)
Paperback (1/26/2010)
Hardcover (2/24/2009)
Compact Disc (2/24/2009)
Paperback (1/1/2010)
Paperback (7/1/2010)
* Individual store prices may vary.
March 2009 Indie Next List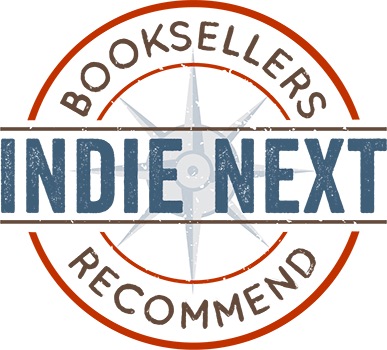 "Reading more like a script for Indiana Jones than a work of nonfiction, this book vividly brings to life the British explorer Percy Fawcett and the Amazon he loved and explored. Grann seamlessly brings together elements of history, anthropology, and biography into a superb narrative."
— Ann Carlson, Harborwalk Books, Georgetown, SC
View the List
Description
After stumbling upon a hidden trove of diaries, acclaimed New Yorker writer David Grann set out to solve "the greatest exploration mystery of the twentieth century": What happened to the British explorer Percy Fawcett and his quest for the Lost City of Z? In 1925, Fawcett ventured into the Amazon to find an ancient civilization, vowing to make one of the most important archaeological discoveries in history. For centuries Europeans believed the world's largest jungle concealed the glittering kingdom of El Dorado. Captivating the imagination of millions around the globe, Fawcett embarked with his twenty-one-year-old son to prove that this ancient civilization–which he dubbed "Z"–existed. Then he and his expedition vanished.

For decades scientists and adventurers have searched for evidence of Fawcett's party and the Lost City of Z. Countless have perished, been captured by tribes, or gone mad. As David Grann delved ever deeper into the mystery surrounding Fawcett's quest and the greater mystery of what lies within the Amazon, he found himself, like the generations who preceded him, drawn into the jungle's "green hell." His quest for the truth, and his stunning discoveries about Fawcett's fate and "Z," form the heart of this enthralling narrative.


From the Compact Disc edition.
About the Author
David Grann has been a staff writer at "The New Yorker" since 2003. He has written about everything from New York City's antiquated water tunnels to the Aryan Brotherhood prison gang, from the hunt for the giant squid to the mysterious death of the world's greatest Sherlock Holmes expert. His stories have appeared in several anthologies, and he has written for the "New York Times Magazine, The Atlantic, "the "Washington Post, "the" Wall Street Journal," and "The New Republic," where he is also a contributing editor.
Praise For The Lost City of Z: A Tale of Deadly Obsession in the Amazon…
"David Grann's The Lost City of Z is a deeply satisfying revelation—a look into the life and times of one of the last great territorial explorers, P. H. Fawcett, and his search for a lost city in the Amazon. I mean, what could be better—obsession, mystery, deadly insects, shrunken heads, suppurating wounds, hostile tribesmen—all for us to savor in our homes, safely before the fire."—Erik Larson, author of Thunderstruck, Devil in the White Cit,y and Isaac's Storm

"Few things are better than experiencing a horrendous adventure from the comfort of your own armchair. Hordes of mosquitoes, poison-arrow attacks, bizarre and fatal diseases, spies in starched collars, hidden outposts of Atlantis -- what's not to like? The Lost City of Z is like a wonderful nineteenth-century tale of exotic danger -- except that David Grann's book is also a sensitively written biographical detective story, a vest-pocket history of exploration, and a guide to the new archaeological research that is exploding our preconceptions of the Amazon and its peoples." —Charles Mann, author of 1491

"The story of Z goes to the heart of the central questions of our age. In the battle between man and a hostile environment, who wins? A fascinating and brilliant book."—Malcolm Gladwell, author of Blink and The Tipping Point

"With this riveting work, David Grann emerges on our national landscape as a major new talent. His superb writing style, his skills as a reporter, his masterful use of historical and scientific documents, and his stunning storytelling ability are on full display here, producing an endlessly absorbing tale about a magical subject that captivates from start to finish. This is a terrific book."—Doris Kearns Goodwin, author of Team of Rivals

"What a wild and adventurous life! In the deft storytelling hands of David Grann, explorer Percy Fawcett emerges as one of the most ambitious, colorful, just plain intrepid figures ever to set foot in the New World. Part Indiana Jones, part Livingstone, and part Kit Carson, Fawcett has found his perfect biographer in Grann, who has gamely endured every conceivable Amazonian hardship to piece together the story of this British swashbuckler and his crazed search for a vanished civilization."— Hampton Sides, author of Blood and Thunder and Ghost Soldiers

"David Grann takes the reader on an extraordinary journey that snakes through expeditionary archives and ends deep in the Amazonian forest. The Lost City of Z is a gripping tale of a lost world and of the magnificent obsession of those who have sought it." —Caroline Alexander, author of The Bounty and The Endurance

"The Amazon has had many chroniclers but few who can match David Grann's grasp of history, science, and especially narrative. Shifting seamlessly between the past and present, The Lost City of Z is a riveting, totally absorbing real-life adventure story."—Nathaniel Philbrick, author of Mayflower and In the Heart of the Sea

"A fantastic story of courage, obsession, and mystery, The Lost City of Z is gripping from beginning to end. In the pantheon of classic exploration tales, this stands out as one of the best." —Candice Millard, author The River of Doubt

"A wonderfully researched true story about an intrepid adventurer, a colorful cast, and an obsession that grips both him and the author."—Walter Isaacson, author of Einstein
or
Not Currently Available for Direct Purchase