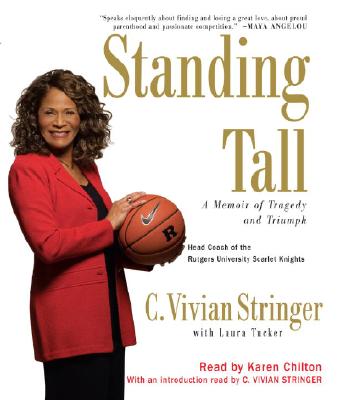 Standing Tall (, Abridged)
A Memoir of Tragedy and Triumph
Random House Audio, 9780739329115
Publication Date: March 4, 2008
Other Editions of This Title:
Digital Audiobook (3/3/2008)
Digital Audiobook (3/3/2008)
Paperback (3/3/2009)
Hardcover (3/4/2008)
* Individual store prices may vary.
Description
"Work hard, and don't look for excuses," C. Vivian Stringer's parents told her, "and you can achieve anything." But her faith and perseverance would be tested many times. A gifted athlete, she had to fight for a place on an all-white cheerleading squad in the sixties. In 1981, just as her coaching career was taking off, her fourteen-month-old daughter, Nina, was stricken with spinal meningitis. Nina would never walk or talk again. Still grieving, Stringer brought a small, poor, historically black college to the national championships–a triumph hailed as "Hoosiers with an all-female cast." In 1991, her husband, Bill fell dead of a sudden heart attack, but that same year, she led yet another young team to the Final Four. Through these dark times and others, Stringer has carried her burdens with grace. Given her history, it was no surprise that she led her team to respond to Don Imus's slurs with dignity and courage.

Standing Tall is a story of quiet strength in the face of punishing odds. Above all, it is an extraordinary love story–love for the game, for the players she has coached, for her close-knit family, and for the husband she lost far too soon.
About the Author
C. VIVIAN STRINGER is the head coach of the Rutgers University women's basketball team. A member of the Women's Basketball Hall of Fame, she has been named National Coach of the Year three times by her peers. She was formerly the head coach of the University of Iowa women's basketball team and the Cheyney State women's basketball team. She was also the assistant coach for the gold medal--winning 2004 U.S. Olympic team. Born in Edenborn, Pennsylvania, she has two sons, David and Justin, and a daughter, Nina. She lives in New Jersey.

LAURA TUCKER has coauthored books on a wide range of topics. She lives in Brooklyn, New York, with her husband and daughter.
Praise For Standing Tall: A Memoir of Tragedy and Triumph…
"If you want to be introduced to the demands and delights of basketball, I am sure this book will satisfy you. If you want a book to speak eloquently about finding and losing a great love, about proud parenthood and passionate competition, rush to get this book. Simply put, it is a wonderful book about the wonder of growing up African American, female, ambitious, and successful. I laughed and cried with this book and was pleased. You go girl!"
—Maya Angelou

"Coach Vivian Stringer is a pillar of strength who always stands tall. I'm inspired by her, both on and off the court, and you will be too."
—President Bill Clinton

 "The people who most inspired me in the civil rights movement–from Martin Luther King Jr. to Sidney Poitier and Harry Belafonte–were each protégés of the scholar, artist, athlete, and civil rights activist Paul Robeson and I have long believed that C. Vivian Stringer continues in the proud tradition of this inspiring leader. In Standing Tall, C. Vivian Stringer confirms beyond any doubt that she does indeed stand tall in the tradition of Robeson and King, and I am certain that readers will not simply be moved by her story, but that their lives will be touched and changed for the better for reading it."
—Andrew Young

 "What a story! In a way that touches me very personally, I see in Coach Stringer a mother's love–and I know that love is the kind of leadership that can change the world."
—Michael Jordan
 
"In a time of darkness, C. Vivian Stringer stepped forward and led her team–and then the nation. Our country got to see what Coach Stringer's players have seen for more than thirty years: a model of grace and strength for a generation of young women. She has been an inspiration and a role model for me in coaching and now Standing Tall gives us an uncommon glimpse of the woman behind the coach."  
—Tony Dungy

"C. Vivian Stringer is a woman of amazing principle and strength. I have always admired her genuineness and her unfailing optimism, and now readers can too. Standing Tall is a fascinating look into the life of this extraordinary woman."
—Pat Head Summitt 

"Thank goodness we have someone like Vivian Stringer, someone with the clarity and courage to stand up for what is right. With Standing Tall, she has answered the call again; when we most need a story to inspire us, she has given us this extraordinary book."
—Magic (Earvin) Johnson
 
"Love, honesty, respect, integrity: If you use these ingredients to build strong character–there you have C. Vivian Stringer's story, and so beautifully written."
—Bill Cosby

"Lots of people have dreams, but C. Vivian Stringer is the dream–a coalminer's daughter who believed when her Poppa told her there was no obstacle she could not surmount. And she lives that dream, teaching others to rise up to meet challenges, turning underdogs into champions again and again–on and off the court. This is the quintessential American story, of a woman and of a family pulling together against the odds. Standing Tall offers an important message of hope to so many."
—John Chaney, Hall of Fame college basketball coach

"Vivian Stringer has a great mind and heart and she isn't afraid to show it. She is a true champion and hero, in basketball and in life."
—Billie Jean King

"This is an emotional roller coaster of a memoir, but it is told with humor, passion, and gratitude. An inspiring life story–and certain to get plenty of attention."  
—Booklist

"A moving memoir about overcoming adversity with grace and stamina."
—Ebony


or
Not Currently Available for Direct Purchase