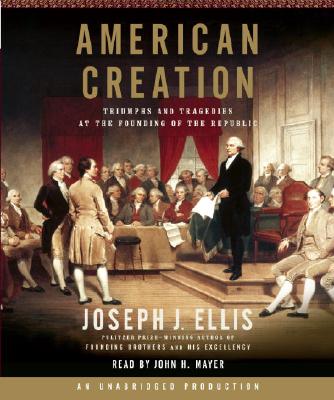 American Creation (Compact Disc)
Triumphs and Tragedies at the Founding of the Republic
Random House Audio Publishing Group, 9780739331927, 9pp.
Publication Date: October 30, 2007
Other Editions of This Title:
Digital Audiobook (10/29/2007)
Paperback (10/14/2008)
Hardcover (10/30/2007)
Paperback, Large Print (10/30/2007)
* Individual store prices may vary.
Description
From the first shots fired at Lexington to the signing of the Declaration of Independence to the negotiations for the Louisiana Purchase, Joseph J. Ellis guides us through the decisive issues of the nation's founding, and illuminates the emerging philosophies, shifting alliances, and personal and political foibles of our now iconic leaders-Washington, Jefferson, Madison, Hamilton, and Adams. He casts an incisive eye on the founders' achievements, arguing that the American Revolution was, paradoxically, an evolution-and that part of what made it so extraordinary was the gradual pace at which it occurred. He explains how the idea of a strong federal government was eventually embraced by the American people, and details the emergence of the two-party system, which stands as the founders' most enduring legacy.
Ellis is equally incisive about their failures, and he makes clear how their inability to abolish slavery and to reach a just settlement with the Native Americans has played an equally important role in shaping our national character. With eloquence and insight, Ellis strips the mythic veneer of the revolutionary generation to reveal men both human and inspired, possessed of both brilliance and blindness. "American Creation" is an audiobook that delineates an era of flawed greatness, at a time when understanding our origins is more important than ever.
About the Author
Joseph J. Ellis received the Pulitzer Prize for "Founding Brothers" and the National Book Award for his portrait of Thomas Jefferson, "American Sphinx. "He is the Ford Foundation Professor of History at Mount Holyoke College. He lives in Amherst, Massachusetts, with his wife, Ellen, and their youngest son, Alex.
Praise For American Creation: Triumphs and Tragedies at the Founding of the Republic…
"Illuminating . . . Compelling . . . It is Mr. Ellis's achievement that he once again leaves us with a keen appreciation of the good fortune America had in having the right men in the right places at the right times."--Michiko Kakutani, The New York Times

"Ellis is a storyteller, and a superb one too. He employs the same narrative technique he developed most successfully in Founding Brothers. Throughout there is the same captivating colloquial style for which he is famous, and the same clarity of exposition."
--Gordon S. Wood, New York Review of Books

"Joseph J. Ellis' Founding Brothers won the 2001 Pulitzer Prize in history. American Creation is at least its equal and perhaps its superior."
--Richmond Times-Dispatch

"Mr. Ellis humanizes the founding generation without tearing them down--a delicate operation in a politically charged time."
--The New York Sun

"He writes history as it should be: as a page-turner."
--Library Journal

"This subtle, brilliant examination puts Ellis among the finest of America's narrative historians."
--Publishers Weekly

"His books on early American history are national treasures."
--Roger Bishop, Bookpage

or
Not Currently Available for Direct Purchase