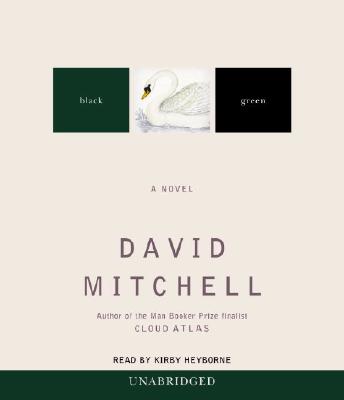 Black Swan Green
Compact Disc

* Individual store prices may vary.
Other Editions of This Title:
Digital Audiobook (4/10/2006)
Paperback (2/27/2007)
Hardcover (4/1/2006)
Description
From highly acclaimed two-time Man Booker finalist David Mitchell comes a glorious, sinewy, meditative novel of boyhood on the cusp of adulthood and the old on the cusp of the new.

In his previous novels, David Mitchell dazzled us with his narrative scope and his virtuosic command of
multiple voices and stories. The New York Times Book Review said, "Mitchell is, clearly, a genius. He writes as though at the helm of some perpetual dream machine, can evidently do anything, and his ambition is written in magma across [Cloud Atlas's] every page."

Black Swan Green inverts the telescopic vision of Cloud Atlas to track a single year in what is, for 13-year-old Jason Taylor, the sleepiest village in muddiest Worcestershire in a dying Cold War England, 1982. But the 13 chapters create an exquisitely observed world that is anything but sleepy. Pointed, funny, profound, left field, elegiac, and painted with the stuff of life, Black Swan Green is David Mitchell's subtlest yet most accessible achievement to date.

Excerpt from Black Swan Green:

Picked-on kids act invisible to reduce the chances of being noticed and picked on. Stammerers act invisible to reduce the chances of being made to say something we can't. Kids whose parents argue act invisible in case we trigger another skirmish. The Triple Invisible Boy, that's Jason Taylor. Even I don't see the real Jason Taylor much these days, 'cept for when we're writing a poem, or occasionally in a mirror, or just before sleep. But he comes out in woods. Ankley branches, knuckly roots, paths that only might be, earthworks by badgers or Romans, a pond that'll ice over come January, a wooden cigar box nailed behind the ear of a secret sycamore where we once planned a treehouse, birdstuffedtwigsnapped silence, toothy bracken, and places you can't find if you're not alone. Time in woods's older than time in clocks, and truer.
Praise For Black Swan Green…
"Mitchell's rendering of time and place in this new book has a warm and lived-in feel. . . . [W]hat Mitchell has set out to do here – to capture the flux of youth, and to dazzle the reader with everyday, awkward human interaction rather than clever narrative conceits – is risky and rewarding. . . . Mitchell's obvious efforts to please the reader work wonderfully, and the novel is never less than tremendously engaging. . . ."
—Toronto Star

"Warmly personal, funny and as matter-of-fact and grounded as [Mitchell's] other books are enigmatic and lofty, Black Swan Green has a strong autobiographical flavour. . . . An easy and enjoyable read, Black Swan Green is at its most compelling when the dialogue is fraught with tension. . . . [I]t offers more in the way of intimacy [than Mitchell's other work]: It offers a friendship with its precocious and well-meaning young narrator that persists well beyond the last word."
—The Globe and Mail

Praise for David Mitchell:
"David Mitchell entices his readers on to a rollercoaster. . . . Then – at least in my case – they can't bear the journey to end. . .a complete narrative pleasure that is rare. . . .Powerful and elegant. . . . He isn't afraid to jerk tears or ratchet up suspense – he understands that's what we make stories for. . . . He plays delicious games with other people's voices, ideas and characters."
—A. S. Byatt, The Guardian (UK)

"Audacious, exhilarating. . . . A formidable creation. . . . [Mitchell's] brilliance takes one's breath away in a manner not unlike a first experience of Chartres or the Duomo. It is a pleasure to sit inside such an edifice, and to marvel. Repeat visits are in order. Each time, a little more structure is revealed. Each time, the space grows less intimidating. Until, finally, it is just a book, one that you are reading with amazement and delight."
—The Globe and Mail

Praise for Cloud Atlas:
"Cloud Atlas is a head rush, both action-packed and chillingly ruminative."
—People

"Mitchell has the imagination and technique to deliver a fully figured world with its own language, landscape and customs. An astonishing range of textures and voices are combined to make these worlds feel real. . . . An exorbitant artistic effort has yielded an overwhelming literary creation. . . . Mitchell's storytelling in Cloud Atlas is of the best."
—The Independent
Random House Audio, 9780739332481
Publication Date: April 11, 2006
About the Author
David Mitchell is the acclaimed author of the novels Cloud Atlas, which was a Man Booker Prize finalist; Number9Dream, which was short-listed for the Man Booker as well as the James Tait Black Memorial Prize; and Ghostwritten, awarded the Mail on Sunday/John Llewellyn Rhys Prize for best book by a writer under thirty-five and short-listed for the Guardian First Book Award. In 2003, David Mitchell was selected as one of the Best of Young British Novelists by Granta. He now lives in Ireland. "From the Hardcover edition."
or
Not Currently Available for Direct Purchase