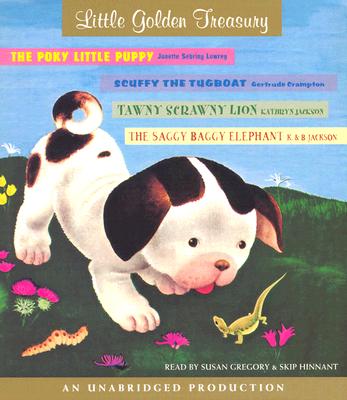 Little Golden Treasury: Scuffy the Tugboat, The Poky Little Puppy, Tawny Scrawny Lion, The Saggy Baggy Elephant (Compact Disc)
Scuffy the Tugboat, The Poky Little Puppy, Tawny Scrawny Lion, The Saggy Baggy Elephant
Listening Library (Audio), 9780739337318
Publication Date: September 26, 2006
* Individual store prices may vary.
or
Not Currently Available for Direct Purchase
Description
The Poky Little Puppy, by Janette Sebring Lowrey. Read by Susan Gregory
A poky little puppy loves to dig holes under the fence despite what his family says. But the poky little puppy digs one hole too many and ends up missing dessert

Scuffy the Tugboat, by Gertrude Crampton. Read by Skip Hinnant
Meant for "bigger things," Scuffy the Tugboat sets off on a daring adventure to explore the world but realizes that home is where he'd rather be, sailing in his bathtub.

Tawny Scrawny Lion, by Kathryn Jackson. Read by Skip Hinnant
Once there was a tawny scrawny lion that was always hungry, until he met 10 little rabbits who taught him how to eat carrot stew–instead of them!

The Saggy Baggy Elephant, by K. and B. Jackson. Read by Susan Gregory
After a parrot makes fun of Sooki's big ears, long nose, and wrinkled skin, the "saggy baggy" elephant isn't too sure of himself–until he meets some beautiful creatures that look and dance just like him.
About the Author
Gertrude Crampton is the author of many children's books including "Tootle "and "Scuffy the Tugboat "of the Little Golden Books Series.

Janette Sebring Lowrey lived in Texas and wrote young adult novels in the 1940s and 1950s, as well as a few other Little Golden Books.

Kathryn Jackson wrote dozens of Golden Books, among them "Nurse Nancy "and "The Animals Merry Christmas."

Byron Jackson co-authored Little Golden Book's "Pirate Ships and Sailors" with Kathryn Jackson.
Advertisement