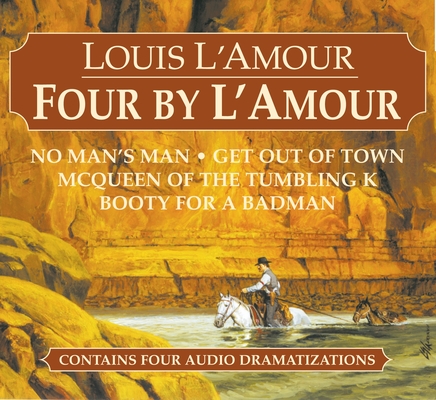 Four by L'Amour: No Man's Man/Get Out of Town/McQueen of the Tumbling K/Booty for a Bad Man (Compact Disc)
No Man's Man/Get Out of Town/McQueen of the Tumbling K/Booty for a Bad Man
Random House Audio Publishing Group, 9780739340806, 4pp.
Publication Date: July 25, 2006
Description
CLASSIC WESTERN ADVENTURE FROM AMERICA'S FAVORITE STORYTELLER
This set, newly released on compact disc, contains four thrilling dramatizations of Louis
L'Amour's short stories, featuring all the excitement of the Wild West-the fierce passion and determination of the men and women who dared to tame the rugged terrain and call it their home, the villains who threaten their dreams, and the cowboys who sought their own destinies across a uniquely American landscape. Each story is presented with rousing music, authentic sound effects, and a full cast, bringing to life the flavor of the Old West, and transporting the listener back to those uncertain days.
About the Author
Our foremost storyteller of the American West, Louis L'Amour has thrilled a nation by chronicling the adventures of the brave men and women who settled the frontier. There are more than 300 million copies of his books in print around the world. From the Paperback edition.
Advertisement